Conference & Stage Expo
Regional Sessions, Tours to Highlight Annual Conference
The Regional Conference Committee will sponsor several sessions, some co-sponsored by Commissions, at the 2015 Annual Conference & Stage Expo in Cincinnati March 18 to 21.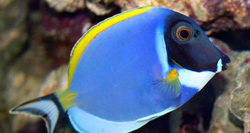 The Regional programs include three off site tours and one regular session at The Duke Energy Center. On March 19, take a tour of The Vent Haven Ventriloquism Museum, the county's largest museum of ventriloquist figurines, with a chance to see how the design and operation of these little guys have changed over the years. A backstage tour on March 21 will feature the Newport Aquarium, across the Ohio River in Newport, Kentucky. One regular session covers a review of the Penn State Lighting Archive Project.
There are five sessions co-sponsored by each of the five Commissions. To kick off the conference on March 18 at 11:15 a.m., the Costume Design & Technology Commission presents The Costumes and Costumers of the Cincinnati Ballet in the Duke Jr. Ballroom. The Cincinnati Ballet has been a part of Cincinnati since 1963 and is the premiere professional ballet company of the region. This company regularly presents a bold and adventurous array of classical, full-length ballets and contemporary works, with live orchestral accompaniment. The costumes and costumers for the ballet are part of this unique creative force. With 30 years' experience and more productions of Nutcracker than can be remembered, Diana Adams and her creative team will share the challenges of creating world premiere pieces, building for dance and movement, building and maintaining tutus and dealing with world-wide design teams and outsourced productions.
Also on March 18, the Sound Design & Technology Commission has a session at 1 with regional sound designers in a panel discussing approaches to their work and the sort of venues and productions involved.
At 4:30 p.m., join the Technical Production Commission for LuminoCity: Making Music Hall Come to Life. See how Dan Reynolds and Steve McGowan made Music Hall come to life creating a backdrop of projected images played during a live performance of the Cincinnati Symphony Orchestra in 2013 and 2014. At the same time, the Engineering Commission has a panel discussion, Structural Cruise Ship Design, on engineering scenery for the cruise ship industry.
On March 20 at 1 p.m. the Scene Design & Technology Commission presents The Show Boat: Floating Theatre Then and Now. The Show Boat Majestic, docked on Cincinnati's river front, housed live theatre for nearly 100 years. Join in for a look at Cincinnati's (and America's) show boat heritage.