Conference & Stage Expo
Karamu House's Terrence Spivey to Deliver Keynote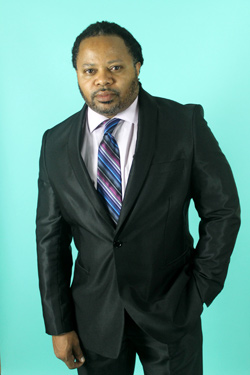 Terrence Spivey, artistic director of Cleveland's Karamu House, will be keynote speaker at the Annual Conference & Stage Expo in Cincinnati.
The actor, director and educator has led Karamu House, the nation's oldest African-American theatre, for 10 years. Before that, he spent 20 years as a New York actor who worked day jobs as a movie usher and hotel doorman to support his career.
His big break has been the role of a lifetime: putting a revered cultural institution in the national spotlight. Among other accolades, Karamu House was named Outstanding Repertory Company of the Year at the 2013 Vivian Robinson/AUDELCO Awards.
"Langston Hughes, Ron (Super Fly) O'Neal, Beverly Todd, Earl Billings, and Bill Cobbs came through here," he said of Karamu House. "At times I feel I don't deserve this."
Next year is Karamu House's 100th birthday, and Mr. Spivey said he'll speak about its rich multicultural history. Karamu is Swahili for "a place of joyful gathering." It's famous for black theatre, but Mr. Spivey said its goal has always been "to use art to bring people together no matter what color they are."
It also fosters arts education through preschool, youth, and teen programs and efforts like Classics in the Lot – a new summer program staging classics in the parking lot. The first production this year was Romeo and Juliet: An African Love Story, adapted and directed by playwright-in-residence Michael Oatman.
It was a youth CETA program that sparked Mr. Spivey's own love for theatre, he said. After moving from Kountze, Texas, to Houston at 10, he grew up idolizing African-American movie stars like Ron O'Neal, Jim Brown, Fred Williamson, and Pam Grier. In 1977, Roots convinced him to pursue a film career. But he learned the joy of stage acting at the Young People's Drama Workshop at Good Hope Baptist Church in Houston's Fourth Ward. He played Percy in The Miracle Worker and a cattle rustler in Oklahoma! when he was student at Lamar High School.
Then famed drama teacher C. Lee Turner recruited him to Prairie View A&M in Houston. There, he majored in theatre and joined the Charles Gilpin Players, which toured the state. Prairie View's production of Micki Grant's Don't Bother Me, I Can't Cope became the first black college musical to participate in the Kennedy Center American College Theatre Festival. The play was also invited to the New Orleans World's Fair.
After graduating, Mr. Spivey moved to New York and looked for acting jobs. As an usher at an upscale movie house and later as a hotel tele-operator and assistant concierge, he kept business cards in his uniform and handed them to the likes of Spike Lee, Hal Prince, and Roy Scheider. He got "extra" roles in music videos, the films New Jack City and Crocodile Dundee, and in Off- and Off-Off Broadway, including Clifford Odets' Waiting for Lefty.
In 2002, he founded his own theatre company, Powerful Long Ladder, and directed a one-man show in New Jersey and an East Harlem production of For Colored Girls Who Have Considered Suicide/When the Rainbow Is Enuf. He also served as entertainment director for the Black Writers Reunion and Conference when it traveled to Atlanta and Dallas.
In 2003, he reached out to Karamu House and landed an offer to guest-direct The Little Tommy Parker Celebrated Colored Minstrel Show. The show's success led Karamu to hire him as artistic director, a position that had been vacant for a decade.
Ten years later, he has mounted over 60 plays including the world premiere of Otis Salid's Gospel! Gospel! Gospel! -- co-produced by alum James Pickens Jr. -- and dance legend Dianne McIntyre's Daughter of a Buffalo Soldier.
He credits the Karamu staff, board, supporters, dedicated actors, alums across the nation, the Cleveland community, and his family with his success.
"From the start, I had a lot of people saying, 'Go, go, go!'" he said. "It took quite a team for this building to still be here."