News From
Sustaining Members
Clearwing Productions: Seifried Joins Phoenix Department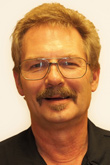 Clearwing Productions recently added Chuck Seifried, a veteran of the City of Phoenix, Arizona,to its systems department.
For the past 15 years, Mr. Seifried was theatrical systems supervisor for the city and a production coordinator at the Phoenix Convention Center and Venues Department. He previously worked as a freelance stagehand with the IATSE. He will be handle lighting and rigging design and sales to Clearwing's expanding customer base.
"Chuck is a valuable asset to our clients having been on the client side of theatrical contracting for many years at the city facilities," said Jill Maurer, Clearwing's systems integration manager.
Clearwing's Systems Integration Department provides designs, installations, and onsite service for audio, video, lighting, rigging, and drapery systems throughout the country.
Stagecraft Institute of Las Vegas: Lucky Eighth Season Filled with Activity
It was a summer full of numbers at the Stagecraft Institute of Las Vegas.
In Chinese culture, eight is one of the luckiest numbers. SILV fulfilled its plan to make its eighth year with eight weeks of training very lucky. A total of 77 students representing 32 states and six countries worked with 105 faculty members (including seven SILV alumni) and more than 140 industry partners. The students saw 12 shows complete with backstage insights.
Look for the SILV 2015 schedule and application forms at stagecraftinstitute.com.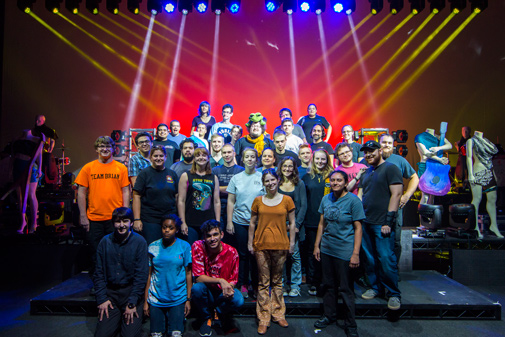 Elation Lighting: Brings Smoky Mountain Opry to Light
The demands that a large musical variety show can place on a lighting rig are great. When Smoky Mountain Opry in Pigeon Forge, Tennessee, sought to replace its aging lighting rig it turned to the versatility and reliability of Elation Lighting's Platinum Spot 15R Pro and Platinum Wash ZFX Pro luminaires to provide the dynamic color and effect needed to support its high-energy, two-hour spectacle.
A good variety show includes a little bit of everything. Featuring a variety of music that spans from rock n' roll to gospel, as well as dancing, aerialists, comedy, magic and more, Smoky Mountain Opry needs a lighting system to be able to keep up and transition accordingly.
TMG was the lighting vendor for the new gear, which debuted on the Smoky Mountain Opry show in February. Visit www.elationlighting.com for more information.
RC4 Wireless: Denver Center Expands Wireless Abilities
The Denver Center for the Performing Arts (DCPA) selected the RC4 Wireless Magic Series 3 wireless DMX and dimming system to enhance its wireless needs.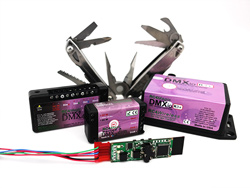 When looking at the technical needs for the theatre company's upcoming re-imagined production of The Unsinkable Molly Brown, (featuring lighting design by Don Holder), Lighting Director Charles MacLeod knew the DCPA would need to expand its wireless DMX and dimming capabilities. The center was an early adopter of wireless DMX technology with RC4's rack mounted systems in the '90s and the RC4 Magic Series 2 system more recently. The DCPA is one of the first customers to use the new RC4Magic Series 3 equipment, which is fully compatible with the existing Series 2 gear.
Learn more about RC4 products at www.theatrewireless.com. Discover the world of projects using RC4 technology at www.wirelessdimming.com.
Mega Systems, Inc.: Training, Showcase Planned in Oklahoma City
Mega Systems, Inc. will roll into Oklahoma City, Oklahoma with its Mega Pro Sessions with Enlighten lighting control training and product showcases of the latest lighting and video gear.
Hands-on training for Enlighten lighting control will show participants how to operate the Enlighten ONE Console, an all-in-one solution for productions, stages, and houses of worship. The full day training, $75, includes lunch.
The Product Showcases will be held throughout the day. Mega Systems, Inc. will demonstrate new gear from Mega-Lite, PR Lighting, Dicolor, RGBLink, and OMEGA Truss. It's free to attend, but registration is required.
The event will be held at the Holiday Inn Express & Suites, 1629 S. Prospect Ave, Oklahoma City.
GLP Inc.: Expands LED Pixel Tape Offerings
Flexible LED Pixel tape from GLP Inc.'s Scenex Lighting division has been used on numerous events, concert tours. and other applications since its introduction. Now the company is adding to the range and introducing higher resolution pixel options for greater control and effects, up to pitches of 6.9mm.
Along with the standard 32 LEDs pr. mtr. (31.25mm pitch), the company now offers tape with 60 LEDs pr. mtr. (16.6mm pitch), 72 LEDs pr. mtr. (13.8mm pitch), and 144 LEDs pr. mtr. (6.9mm pitch) for really high resolution applications.
Directly applied silicone coatings give every tape in the range an IP65 protection rating for outdoor use, and for cosmetic integration, each tape can be supplied with a white or black PCB backing.
Some recent applications include concert tours by Chris Isaak, The Presets, and OK Go, along with Jason Mraz' recent album launch party for iHeart Radio.
Full specifications and downloads for the entire range of pixel tape can be obtained from GLP Inc. by writing to usa@glp.de, visiting www.germanlightproducts.com/scenex or calling 818-767-8899.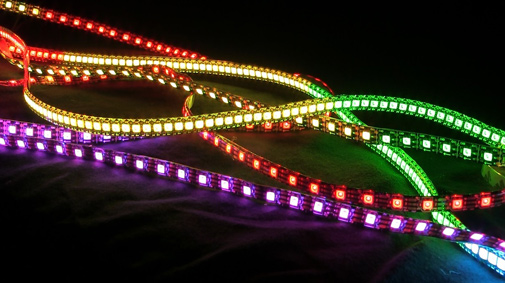 Nemetschek Vectorworks, Inc.: 2014 Design Scholarship Winners Annnounced
Fifteen students from eight countries were recently announced the winners of Nemetschek Vectorworks, Inc.'s first Vectorworks Design Scholarship, and one received the Richard Diehl Award.
Each will receive $3,000 to support studies in any design major at any accredited college or university. Each school will get Vectorworks software licenses and training.
University of Pennsylvania landscape architecture student Diego Bermudez had the top overall entry, In addition to earning a Vectorworks Design Scholarship, he received the Richard Diehl Award and an additional $7,000.
Mr. Bermudez earned top honors because of his superb use of digital tools to demonstrate how reclaiming an area which had been devastated by poor use fosters human interaction. His project, "Circasia: Engaging the Creeks," redefines the relationship between the villages and creeks in Circasia, a rapidly growing coffee community in Colombia, by helping residents reconnect Circasia's urban core to its agrarian landscape. His landscape architecture interventions change lives, increase health, reinforce cultural assets, and raise quality of life.
The 2014 Vectorworks Design Scholarship recipients are:
Markus Bobik, TU München, Germany, who uses the environment to create a protective shell around the soft core of an Alpine chalet
Enoch (Wes) Calkin, University of Cincinnati, for re-telling Broadway's Carrie as a more intimate and intelligent tragedy
Chen Yin Feng, Chongqing University, China, who transformed an abandoned industrial infrastructure into an educational center and public space
Judyta Cichocka, Wrocław University of Technology, Poland, for coming to grips with the latest ideology of architectural iconism
Paul Dembeck, Beuth Hochschule Berlin, Germany, for a stage design that discreetly combines light and video to maintain focus on the artist
Marcel Hauert, Berner Fachhochschule, Switzerland, for a macrocosmic vision for an urban public space
Andrea Linney, University of Toronto, Canada, whose expansion of existing path systems transforms a large, cross-site, open-space
Shao Xing Yu, Southeast University, China, who uses an open space to find a balance between tourists and residents
Michael Signorile, Stevens Institute of Technology, USA, who uses glass in winter garden hydroponics for his project
Tina Simon, TU Dresden, Germany, for larger-than-life renderings of ornately designed gardens in an urban, Baroque neighborhood
Daniel Sweeting, London Metropolitan University, United Kingdom, who critiques the tourist experience in London
Alexander Davey Thomson, K.U. Leuven, Saint-Lucas Campus, Belgium for his architectural visions of an ecology-based urban future
Lisa Vromman, KASK School of Arts Gent, Belgium, who explored a façade that communicates with the environment and encourages residents to mingle
Wu Xin Jing, Shanghai Theatre Academy, China, who abandons traditional concert effects for dramatic lighting
To see the winning projects and view the list of judges, visit www.vectorworks.net/scholarship.
The 2015 Vectorworks Design Scholarship will begin accepting entries beginning on March 1, 2015. Students can sign up for email reminders at www.vectorworks.net/scholarship and are encouraged to follow @Vectorworks and #FundMyVision.
The Vectorworks Design Scholarship program salutes students across disciplines such as architecture, landscape design, lighting design, and interior design who are determined to solve today's most challenging design problems. In its first year, nearly 1,000 students from 56 countries submitted entries.
For more information, visit www.vectorworks.net.