News & Notices
THS Database Hits 30,000th Searchable Record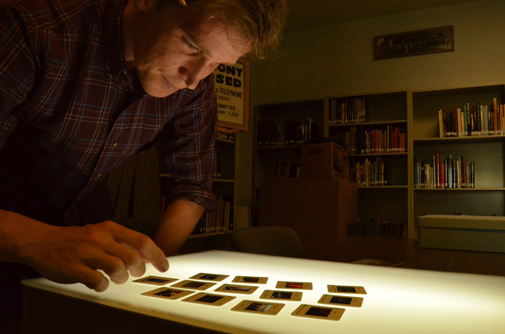 Recently, the Theatre Historical Society of America (THS) hit a milestone when it uploaded its 30,000 text record to the online database of its cataloged archive collections.
Launched in early 2013, the catalog is a major step to connect its expansive archive collections with more researchers, students, and enthusiasts who are interested in the architectural history of theatres.
"We estimate that our collections have over 100,000 items that document about 18,000 theatres in America from the late 1880s to today," said Richard Fosbrink, executive director. "It's the largest holding of its kind in scope – no one else has national coverage like this."
To explore the 30,000 records available online, visit historictheatres.org/archival-collections. To visit them in person, schedule an appointment with the archives director by calling 630-782-1800 or via e-mail at archivesdir@historictheatres.org.
THS has been invited to be part of the USITT Conference & Stage Expo in 2015.
The collections housed at the THS main office in Elmhurst, Illinois, are composed of photographs, negatives, slides, postcards, artists' renderings, scrapbooks, books, periodicals, business records, blueprints and architectural drawings, supplier and trade catalogs, architectural artifacts, theatre furnishings, ushers' uniforms, and numerous other items relating to theatre buildings and their cultural and social history.
"We've been amassing these resources for 46 years, and we've rededicated ourselves to eliminating the backlog in processing our collections," said Patrick Seymour, archives director. "The last batch upload to our catalog was our theatre files which, just like they sound, are physical files we have on each theatre in America. Our online catalog isn't comprehensive, but we're constantly updating and adding to it."
While not all of the uploaded records are image based, the online catalog hosts 1,800 images for online browsing via the catalog at historictheatres.org.

The Theatre Historical Society of America was founded in 1969 by Ben M. Hall, author of the first book celebrating the role of the movie palace, Best Remaining Seats. Together with a group of like-minded individuals, he and close friend, Brother Andrew Corsini Fowler, set out to publish the first quarterly journal celebrating historic theatres. From that first issue to today, THS has grown in membership, scope, and archive holdings. With over 50 physical collections, mainly from committed founding members, the collections at THS hold rare and unpublished materials including the corporate records from Balaban & Katz and the Loew's Corporation.
Images and source materials from the THS collections been used by Thirteen WNET New York; Broadway in Chicago; Chicago Architecture Foundation; Dramatics Magazine; H3 Hardy Collaboration Architecture, LLC; Historic Landmarks Foundation of Indiana; Landmarks Preservation Council of Illinois; Lion Television, Ltd. & Oregon Public Broadcasting; Lifetime Productions, Inc.; New York City Economic Development Corporation; New York Times; National Geographic; The History Channel / A&E Television Networks; Turner Classic Movies, and even Playboy Enterprises, Inc.
To further engage researchers with the collections, the Thomas R. Du Buque Research Fellowship provides a cash grant to researchers interested in traveling to Elmhurst to work in the collections. Applications for the fellowship are welcome from non-members as well as members. To date, three researchers have used the collections. Dr. Ross Melnick conducted research for his new book project, Cine Metro: American Film Exhibitors in Global Markets. Award-winning photojournalist Amy Davis delved into the collection for her new book, Flickering Treasures: Rediscovering Baltimore's Forgotten Movie Theaters. Jeff Thompson's project documents the theatres of Salt Lake City, Utah.