News & Notices
Gateway Program Expands - Accepting Applications
In 2015, USITT will build on the strong start of its Gateway Program, which was launched in 2014 at the Annual Conference. It is a mentorship opportunity for students and young professionals from underrepresented populations within our industry. A professional mentor from a similar background and career path will guide and maximize each mentee's experience at the Annual Conference.

Launched as a pilot program, in 2014 there were three mentees paired with professionals from the industry. Two African American students were funded by donations received in memory of Tayneshia Jefferson and funds committed by USITT's board. One student was partially supported by Texas Performing Arts.

The program will be expanded in 2015, while continuing the two specific mentorship opportunities in memory of Tayneshia Jefferson. Nominations and full information about the Gateway Program will be available October 1, 2014 at www.usitt.org/diversity.

The strongest indication of the program's success are in the words of Madilynn Garcia, a participant, below.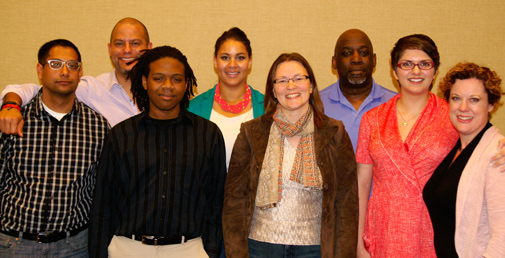 This past March, I had the honor of being one of the first three students in the Gateway program, which connects students and young professionals from under-represented populations to USITT at the Annual Conference & Stage Expo.
I am entering my last year at the University of Texas at Austin where I have focused on performance history and production management. My job at Texas Performing Arts as the assistant to Associate Director Rachel Durkin-Drga and Academic Production Manager (David Stewart gives me an exciting balance to my academic studies. My aspiration is to be the director of a theatre company or performing arts center. Though that dream is a few years away, I'm thrilled to be taking early steps toward it with USITT.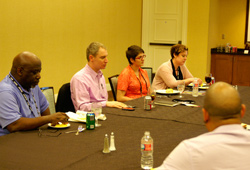 At a conference with thousands attending, I never anticipated feeling as welcomed as I did. Erin Joy Swank, a production-stage manager at Central City Opera in Colorado, acted as my primary mentor while other mentors in the Gateway pilot offered additional direction during the week.
Let me be clear: there was no "easing in" to the USITT circle, which was one of the best parts. My partnership with the Gateway mentors gave me the opportunity to meet some exceptional leaders, all of them willing to share their experiences and quick to introduce me to others. The commitment of members to connect with young professionals can only be described as stunning.
A portion of the Conference that still sticks with me is the Women in Theatre roundtable discussion where dozens of young women interested in management, including myself, listened intently to the challenges and successes of experienced women in the field. Though they focused on different areas of production, each stressed the importance of being mentored and eventually becoming a mentor throughout their journey. As a person in the early stages of a professional path, I cannot adequately describe the remarkable place of mentors in my learning process. The connection with USITT has expanded my network of mentors and advisors in a way that is continuously fostered through professional development programs and my involvement in the growth of the Gateway program.
In an industry that is striving toward greater inclusivity, it is clear that the Institute is a leader in that charge and the Gateway program is a major component. Joining the USITT community has brought clarity to my future goals and greater perspective on how to get there. I am thrilled and humbled by where this initiative is going and cannot wait to meet the next cohort of Gateway students who will be impacted by this exceptional experience.
To be part of the 2015 Gateway program, apply before November 1. The portal will open October 1 at www.usitt.org/diversity.