Conference & Stage Expo
Conference Registration Opens Soon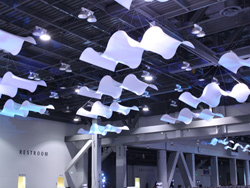 Registration and hotel housing for the Cincinnati 2015 Conference & Stage Expo opens this month, so check e-mail, the new USITT 365 mobile app, and the website for updates!
The Annual Conference & Stage Expo will fill the Duke Energy Convention Center with more than 250 companies and 5,000-plus industry experts, educators, students, and vendors March 18 to 21.
Highlights include Light Lab, a new Opening Night Party and New Products Showcase (Brag & Swag), and some famous 2015 Distinguished Achievement Award winners.
USITT has arranged housing at the Hilton Cincinnati Netherland Plaza hotel, the Hyatt Regency Cincinnati, and the Millennium Hotel Cincinnati, and will offer the lowest available rates with online registration and housing.
Meanwhile, check out the companies coming to Stage Expo here and see what Cincy has to offer at www.cincyusa.com.