News From
Contributing Members
Vincent Lighting Systems: To Host Open Houses
Open houses are scheduled at three Vincent Lighting Systems (VLS) offices October 13 through 17.
VLS will open its doors in Cincinnati and Cleveland, Ohio, and Pittsburgh, Pennsylvania and feature popular manufacturers and their latest products. On the schedule so far are Philips Strand Lighting, Philips VARI*LITE, Philips Color Kinetics, Rosco Labs, City Theatrical, CM Hoists, and Mountain Productions.
Cincinnati's open house will be 2 to 6 p.m. Monday, October 13 and 11 a.m. to 4 p.m. Tuesday, October14. The Pittsburgh office will open its doors noon to 4 p.m. Wednesday, October 15. The public can visit the Cleveland office noon to 5 p.m. on Thursday, October 16 and 10 a.m. to 2 p.m. Friday, October 17.
Contact VLS to be notified when details develop. Include interest in the open house in the message.
Meyer Sound: Transforms Tunnel into Underwater World
This summer, undersea sounds captured by artist Jana Winderen temporarily transformed New York City's seven-block-long Park Avenue Tunnel in the immersive sound installation DIVE. The soundscape was heard through more than 60 Meyer Sound self-powered loudspeakers configured by Tony Myatt, a professor at the University of Surrey.
The tunnel became a temporary pedestrian zone for New York's annual Summer Streets celebration. Visitors were greeted at the tunnel entrance by sounds of waves crashing along the seashore and pulled further into the ocean depths by sounds that included cod, toadfish, seaborne insects, and boat noises.
Mr. Myatt programmed DIVE's three-dimensional sound design using Ambisonic surround software.
The audio system was divided into eight Ambisonic surround zones, each featuring eight UPM-1P loudspeakers split into upper and lower levels and two 500-HP subwoofers. Ms. Winderen captured the recordings using DPA hydrophones, DPA d:screet 4060 omni microphones, and a Sound Devices 744T four-track recorder.
Visit www.meyersound.com for more information.
Philips Selecon: LED Luminaires Complete School Lighting Renovation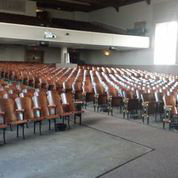 Committed to the pursuit of excellence, the Marshall Fundamental Secondary School in Pasadena, California has been recognized for its outstanding music programs and has been been named one of the best high schools in the United States. With its rich architecture, the campus houses a 1,200-seat auditorium with a lighting system that was in need of a full renovation. George Kwiter, when asked to give the school the best system possible, chose 18 PLprofile1, 12 PLfresnel1, and eight PLcyc1 LED luminaires from Philips Selecon.
The PLprofile1 LED luminaire is a variable beam profile that produces precise beam control and pattern projection from a high output beam. Available in 18-34° or 24-44° beam angles, it delivers the performance of a 500 watt profile fixture with a maximum power consumption of only 150 watts as well as exceptional color and projection quality in a compact, robust luminaire.
A breakthrough in cyclorama lighting, the PLcyc1 LED luminaire delivers smooth and even color in a compact, light-weight design using only 120 watts to illuminate drops up to 16 feet high. Each luminaire can replace the equivalent of a traditional four-color, 500W Cyc light, and multiple units can be powered from a single circuit with the Powercon cabling system and standard DMX cables.
The PLfresnel1 LED luminaire is renowned for its color rendering across the full spectrum, and its warm and cool whites.
For more information, visit www.strandlighting.com or www.seleconlight.com.
ETC: ETC Nomad helps Austrian theater in tight programming timeframe
Every summer, the Theater im Hof, located in Enns, Upper Austria, produces such classical productions as Faust, Cyrano de Bergerac and pieces by Shakespeare. This year, the company presents The Complete Works of William Shakespeare (abridged) by Long, Singer and Winfield, which contains all 38 stage works and 154 sonnets. The ambitious show was programmed with the help of ETC Eos software on the new ETC Nomad controller.
This year's production, staged in the basement of the Ennsegg Castle, had little space to spare for front-of-house control positions and a hectic production schedule. Technical director and lighting designer Ueli Riegg found the new PC-based Nomad controller to be the perfect solution. The new screen management in Eos v2.2 software, including a simple-to-use onscreen command keypad, allowed Mr.Riegg to program the entire show using a PC with a monitor and an X-Keys-programmable keyboard.
Because of the tight production schedule – just a single day to turn the basement into a theater and one night to cue the show – Mr. Riegg depended on the Nomad running Eos software as an offline editor for preprogramming the show.
Nomad, which is compatible with both PCs and Macs, and runs both Eos and Cobalt software.