News From
Sustaining Members
Nemetschek Vectorworks, Inc.: Accepting Grant Applications
Submissions for the Vectorworks Academic Research Grant program are being accepted by Nemetschek Vectorworks, Inc. The program funds individuals and teams that develop design solutions to global concerns worldwide.
The grant aims to support projects that:
Design or improve a public space that incorporates humane design concepts and principles
Increase awareness of a design idea or solution (for example, an individual developing a curriculum, arranging a symposium, establishing a program or department, or writing a textbook/resource guide on the subject)
Disseminates information for greater public/professional awareness
Visit www.vectorworks.net/grant for an application and further information. Individuals and teams are encouraged to submit projects that represent any design discipline. Learn more by contacting academicteam@vectorworks.net or following @Vectorworks.
Cobalt Studios: Faux Bois, Historic Scene Painting Topics for Seminars
Spring has arrived and the Specialty Pro Seminars from Cobalt Studios just keep on coming! Two seminars are scheduled in May at the facilities in White Lake, New York.
Nels Christianson will lead a seminar on Faux Bois: Interior Grade Woodgraining May 5 to 8.
C. Lance Brockman will lead The Art of Scene Painting – the Historic Method, Part 1 May 13 to 16. Potential students can find examples of historic scenery at the University of Minnesota's Scenery Collections Database.
Space is limited, so reserve now. Click here for more information.
TMB: Introduces Solaris LED Flare Jr at Prolight+Sound
At Prolight+Sound in Frankfurt, Germany, TMB proudly introduced Flare Jr, a powerful new compact lighting fixture developed with technology from the award-winning Flare.
The Solaris LED Flare Jr features many of the breakthrough advances of the original Flare in a package one-third the size. Flare Jr, with its tremendous RGBW output, performs superbly as a combined wash/strobe/blinder and effect light, plus it features full RDM functionality and is offered with a LumenRadio wireless control option.
TMB is worldwide exclusive distributor for Solaris LED Flare: www.tmb.com/products/flare. Learn more about many other products from TMB at www.tmb.com.
GLP: Celebrates 20th Anniversary with Style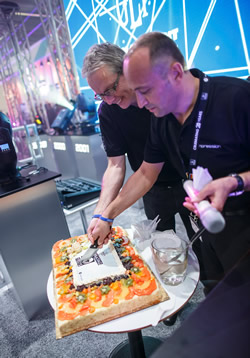 GLP (German Light Products) celebrated a landmark birthday at this year's Prolight+Sound Show in Frankfurt, Germany, when Udo Künzler, the company's founder, invited the ranks of international press and distributors to raise a glass and toast the company's first 20 years.
He was surrounded by the milestone products that have marked GLP's evolutionary journey over two decades, commencing with the Patend light and leading up to the birth of the ground-breaking impression series in 2007. Two high profile industry professionals who have contributed to sales of the impression series on both sides of the Atlantic, Kasper Gissel and Mark Ravenhill, were present (the latter providing a stirring introduction).
As guests feasted on cake and champagne (or GLP's specially bottled German beers), the party filtered next door to GLP dealer, B&K Braun, where the revelry continued.
Stated Mr. Künzler, "This was a very special occasion for us, and it was great to be able to welcome so many friends and supporters who have helped us along the way."
L-ACOUSTICS: Boulevard Pro Adds KARA Package to Inventory
Boulevard Pro, a leading New York City area audio systems and backline provider, has added a full L-ACOUSTICS KARA package its in-demand products and systems inventory for live event and touring customers require.
In addition to the dV-DOSC, dV-SUB and 112P enclosures already on hand, Boulevard Pro recently expanded its L-ACOUSTICS inventory with the acquisition of 36 KARA enclosures, eight ARCS WIDE constant curvature systems for in-fill applications, five coaxial 8XT as front fills, 16 SB18 subs, and a dozen LA8 amplified controllers housed in four LA-RAK touring racks. The new system was purchased to meet the sound reinforcement needs of venues seating upwards of 3,000.