News From
Contributing Members
Creative Stage Lighting: Now High End Systems Distributor
Leading moving light and control manufacturer High End Systems has entered into a distribution agreement with Creative Stage Lighting, making it the United States wholesale distributor of the entire High End Systems product line.
The increased partnership comes only months after Creative Stage Lighting was designated a Major Reseller of High End Systems's Hog 4 lighting control products and High End Systems' new Axon HD and HD Pro media servers. The entire High End Systems line is now accessible through CSL's dealer network.
Rosco: Helps Autism Speaks Light It Up Blue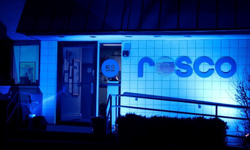 Rosco's #68 Parry Sky Blue and #80 Primary Blue were the official color filters of Autism Speaks' Light It Up Blue campaign again this year. Light It Up Blue is a unique global initiative that occurs on World Autism Awareness Day April 2, and helps raise autism awareness. In honor of this historic day, many iconic landmarks, hotels, sporting venues, concert halls, museums, bridges, and retail stores used the two blue Roscolux filters to light themselves.
2013 marked the first year the two colors were the official color filters of the event, and Rosco CEO Mark Engel presented Autism Speaks with the first benefit check last fall. The donation represented a portion of the profits generated by the sale of R68 and R80 in the weeks leading up to the event. This donation was accompanied by an additional, online fundraising effort coordinated through several Rosco dealers that raised an additional $4,275.
For more information, visit www.rosco.com/LIUB.
ETC: Debuts Products, Part of Siberian Theatre Renovation
Two new products from ETC debuted at Stage Expo in Fort Worth, Texas, and the company's products were used in the renovation of a 16th century Siberian theatre.
The Source Four LED Series 2 made its North American debut at ETC's booths at USITT's 2014 Stage Expo. Since introducing the Source Four LED luminaire in 2012,ETC has experimented with the x7 Color System, mixing together new color combinations to create brighter light that covers a larger spectrum. Thanks to the improved color capabilities and increased brightness, the Source Four LED Series 2 is a multipurpose tool that can fill any role in a lighting installation, including front-of-house and long-throw positions.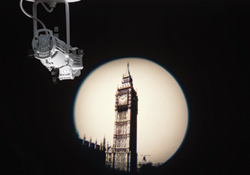 ETC also unveiled the much-anticipated LED version of the Source Four Mini spotlight. At less than two pounds and nine inches long, the Source Four Mini LED looks like its tungsten counterpart, but features an energy-efficient 12-watt, 35,000-hour LED lamp.
The Tobolsk Drama Theater, named for P.P. Yershov, is thought to be the oldest theater in Siberia, with performances dating back to the 16th century. Today, after a massive reconstruction project, the theater is one of Russia's most technologically advanced venues with a lighting system including ETC fixtures, entertainment controls, and architectural controls.
To learn more about the Source Four LED Series 2, Source Four Mini LED, and all of ETC's products, visit www.etcconnect.com.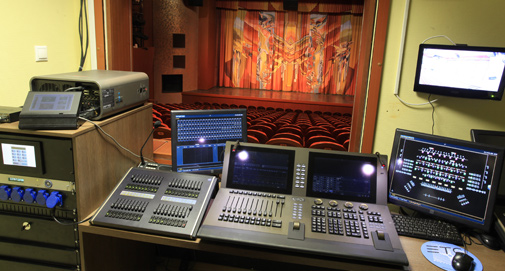 Daktronics: Highlights Controller at Conference
When the 2014 Annual Conference & Stage Expo opened at the Fort Worth Convention Center in Fort Worth, Texas, Daktronics featured the latest control solution at its booth.
The new Pro Series hand-held remote controller is both a tablet and a laptop, giving operators the option of using the built-in keyboard plus the convenience of orienting the tablet's screen for maximum comfort and ease.
Daktronics also showed its popular Vortek Classic hoist, now even quieter with new and improved braking material.
Meyer Sound: Introduces Surround Loudspeaker at CinemaCon
Meyer Sound has announced that the new, self-powered HMS-15 surround loudspeaker debuted during CinemaCon 2014 in Las Vegas, Nevada, March 25 to 27.

Easily the most powerful in the company's expanding line of surround loudspeakers, the HMS-15 delivers both the intensity and subtle nuances of soundtracks to every listener, without compromise.
The HMS-15 is designed for high-power, longer-throw applications in cinema exhibition auditoriums as well as in post-production and screening rooms. Pre-released HMS-15 units have been in use to great acclaim at Lucasfilm's Skywalker Sound in Marin County, Calif.
The HMS-15AC begins shipping in July, and the 48 V DC-powered HMS-15 in October.
Rose Brand: Blog Features Designer's Use of Kaos
The new article on the Rose Brand blog features set designer Akiko Nishijima Rotch's use of Kaos– a firm, nonwoven, handmade substrate with unique visual and textural properties.
Ms. Rotch used Kaos in her set design for Cat on a Hot Tin Roof, playing at both the Perseverance Theatre in Juneau, Alaska, and the Alaska Center for the Performing Arts in Anchorage. The article discusses how she captured the feeling of the steamy Mississippi Delta and character dynamic in her set design.
The article and more can be found on The Rose Brand blog http://blog.RoseBrand.com.
ZFX, Inc.: Giving Stage Expo Participants a Chance to Fly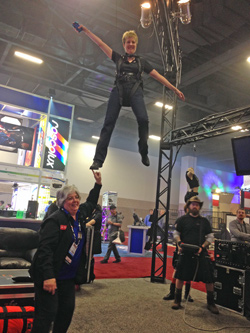 Among ZFX, Inc.'s services highlighted at the Fort Worth 2014 Conference & Stage Expo demonstrated the ease of incorporating the "proscenium walk" into a production of Mary Poppins.
Back by colossal demand were the fondly termed "pony rides," where ZFX offered random Stage Expo attendees the chance to experience flight.
A leader in performer flying since 1994, ZFX is a Contributing member of USITT. Find more information about ZFX, Inc. at www.zfxflying.com or by calling 502-637-2500.
Janet Gramza, USITT Communications Associate, participated in a flying demonstration at State Expo in Fort Worth, supported by colleague Barbara E.R. Lucas, Director of Communications.