News & Notices
Ribbons for Rigging Raises $$$
A new item at the USITT bookstore in Fort Worth was meant to turn the notion that the more ribbons on a conference badge, the higher the status, on its head.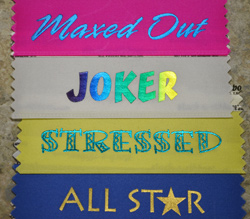 Besides the usual "Commissioner," "Presenter," or "Award Winner" ribbons seen at the 2014 Conference & Stage Expo, attendees bought "Goddess," "Big Cheese," "Tired Feet," and "Plays Well with Others," ribbons for a good cause – safer student stages.
At $1 per ribbon, the first Ribbons for Rigging sale raised over $400 for the Rigging Safety Initiative, which provides free rigging inspections and safety training for schools across the nation. The novelty ribbons went over so well that they're sure to reappear at in Cincinnati,
People loved them. Some had three or four hanging off their badges.
Donations may be made year-round, so those moved to continue their role of "Goddess," "Big Cheese," or "Official Something" may contribute here.
Finance Director Carol Carrigan and Finance Assistant Lori Furcinito ran the bookstore, which had its own room at the Fort Worth Convention Center, another first. They said attendees suggested offering more ribbons with theatre tech-inspired sayings next year.
For the first time out, the variety ranged from "Go Green" and "Celebrate Diversity" to "Diva," "Tired Feet," and "Huh?"
The ribbons helped spread awareness of the Rigging Safety Initiative, which provides as many as 20 school rigging inspections a year at a cost to the Institute of about $1,000 each.
Founding sponsor JR Clancy established the program with a $10,000 donation in 2011. Added support has come from ETC, H&H Specialties, and Shepard Exposition Services, as well as individual donations to the April Arbor Day campaign