News & Notices
Roth Charms at Conference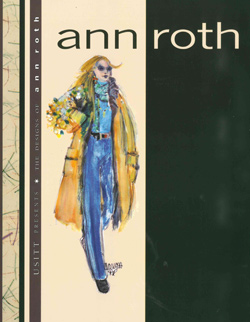 Hollywood and Broadway costume designer Ann Roth was a smash hit at the 2014 Conference & Stage Expo in Fort Worth, Texas, where she helped launch the monograph, The Designs of Ann Roth. She also accepted the 2014 Distinguished Achievement Award in Costume Design, discussed her creative methods, and engaged dozens of fans at her book signing.
The new monograph, written by Holly Poe Durbin and Bonnie Kruger, is available here.
Ms. Roth started her morning with the Distinguished Achievement Award Winners in Conversation, sharing the stage with Eugene Lee, Shirley Prendergast, Bob McCarthy, Dana Taylor, Jim Bakkom, Susan Threadgill, and moderators Kevin Rigdon and Michael Mehler.
With so many great minds sharing anecdotes and advice, she managed to rivet the audience with her description of using a costume to turn an actor into a character.
"What I like to do is, say an actor has been flown in overnight and he's incredibly cranky --Dustin Hoffman," she said, then told the story of how Mr. Hoffman became Ratso Rizzo in Midnight Cowboy before her eyes in a cramped dressing room.
"I tell him we're going to go in the dressing room and create a character," she said. "I had already decided what it is he's going to wear, and it's here in the room, but he doesn't know it. I have a suit dyed an ugly purple color, and I had shoes hollowed out and weighted to make him walk funny."
Ms. Roth had him try on the suit with some "rotten suspenders," and told him he had to have dirty fingernails and a stolen class ring.
"And suddenly, you look in the mirror and you both see that there's someone in the mirror who's not Dustin Hoffman and not me," Roth said. "It's the character, and you have to just stand back and let it breathe. And that happens on every single thing I've ever done."
At her book signing with Ms. Durbin and Ms. Kruger, Ms. Roth greeted every fan who approached with questions and comments, as she wrote personal messages in their books.
"Are you a costume designer?" she asked several people. If they said, "yes," she asked, "Do you draw well?" If they said "yes," she said, "Good." If they said "no," she said, "Then start!"
Later, at her award session, she explained why drawing well matters. In designing a costume to create a character, "it's important for you to have an image in your mind before you start. It's not going to Macy's and saying, 'Oh, this looks nice with that.' It's having an image of the character, and what the character is wearing, and what those clothes look like … And once you get that image, you should be able to draw it quickly."
"I don't trust any designer who can't draw," she added. "I insist you learn to draw! I think to be able to stick your nose in the air and say, 'I'm a costume designer,' you damn well better be able to draw, and that's all I have to say about that."
She said she works best with actors and directors who share her sense of humor. Director Mike Nichols, who wrote the foreword for her monograph, proved he "got" her back in 1964 when she worked on her first feature film, The World of Henry Orient.
Ms. Roth decided that a young girl whose parents were always off traveling would constantly wear her mother's fur coat. "It was a hot coat, as they say in New York," she said to big laughs.
Mr. Nichols loved her use of the coat to create the character, and invited Ms. Roth to work on Broadway's The Odd Couple that same year. They have since collaborated on two dozen plays and films – so far.
Ms. Roth said some of her choices were simpler. "Someone asked me why I designed Romeo and Juliet in pink and blue," she said. "I was pregnant."
She is known for meticulous research into period styles and fabrics, and her effort to be authentic and "real" to best serve the character and the story.
One questioner at the award session asked how big a role preparation plays in her work. "It's big," she said. "Very, very big." It has to be about what the character really would have worn. "If some movie star says, 'I don't like yellow,' you go, 'You? You do not exist! It's the character.'"
"But you don't say it that way," she added. "Although I have."
Ms. Roth's body of work ranges from period costumes for movies like The English Patient (1996) -- which won her a Best Costume Design Oscar -- to portraying historic figures like Nicole Kidman as Virginia Woolf in The Hours (2002) and Meryl Streep's Julia Child in Julie and Julia (2009).

The Designs of Ann Roth – as well as eight previous monographs on significant American designers are available at www.usitt.org/store.