News & Notices
Announcements
Ottawa Setting for 24th Rendez-vous
The CITT 24th Rendez-vous Annual Conference and Trade Show will take place August 14 to 16 in Ottawa, Ontario.
The conference offers three days of sessions, workshops, backstage tours, trade show, social events, and networking opportunities. USITT members can register at the member rate for the event. Registration to exhibit at the Trade Show is open.
Pre-conference workshops will be replaced with hands-on console & media server training. Education Forum and Roadhouse Roundtable discussions will be moved to Saturday. The AGM luncheon has become an AGM breakfast.
The New Product Breakfast will kick off Friday morning and the Corporate Luncheon, sponsored by MDG Fog Generators, will allow delegates and exhibitors some layback time just before the Trade Show opening.
CITT's Annual General Meeting Breakfast on Saturday is a must for all CITT members to learn more about what the organization has been doing over the year and to review the annual reports and financial statement.
Evening social events include the opening night Meet & Greet Junk Challenge on Thursday, Swag Bingo Live Auction Friday night, and the Awards Banquet where individuals and companies who have excelled in their field of live performance in Canada are honored.
TCG's Crossing Borders Slated June 19 to 21
Attendees will cross more than just theoretical boundaries during the 24th annual Theatre Communications Group (TCG) National Conference: Crossing Borders June 19 to 21in San Diego, California. They will journey to Tijuana, Mexico to engage with local artists and culture.
Theatre performer and playwright Taylor Mac will be one of the featured presenters, with more speakers to be announced soon.
Before the Conference, on June 18, TCG will convene two, full-day Pre-Conferences in Tijuana, Mexico: the International Artistic Collaboration Forum and the third, in-person Diversity & Inclusion Institute.
For more information about the conference and to register, click here.
Roscolux 359 Keeps Giving to Behind the Scenes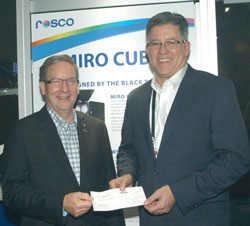 Rosco Laboratories recently presented its sixth annual royalty check to the ESTA Foundation's to Behind the Scenes. The money, raised from the sales of Roscolux 359 Medium Violet, tallied $2,227 this year to bring total donations from the product's sales to just over $15,000.
For more information about Behind the Scenes, to donate, or to apply for a grant, visit www.estafoundation.org/bts.htm.