Reflection on Service to USITT
USITT Fellow: Lawrence J. Hill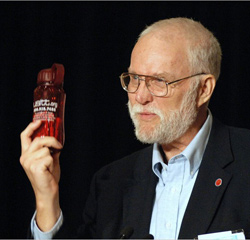 Lawrence J. Hill, professor emeritus at Western Carolina University, has a long, rich history of service to USITT. He was a founding member of the Board of Directors of the Northern Boundary Regional Section serving that board for six years. He was Chair of Programming for the Minneapolis 1987 Conference & Stage Expo. He was a Member-at-Large for the National Board of Directors from 1990 to 1996, and was Treasurer for eight years at two different times. Mr. Hill was Chair of the Finance Committee from 1992 to 1996 and Co-Chair of the USITT@50 campaign. In 2005, he received the Joel E. Rubin Founders Award.
A Prologue — "Have you ever considered. . . ?" "Will you be attending the next...?" "Would you like to...?"
It is a pleasure to follow Leon Braunner in this series of articles, primarily because Leon laid out the richness of participating at the highest level of USITT leadership. His recognition of the importance of other Institute leaders, in both his personal and professional life, is indicative of the commitment and camaraderie found here. Those involved in this organization know it envelopes people in a rich environment.
My personal journey in USITT began when I was hired by the University of North Dakota in 1969. This was a decade before the creation of a Regional Section in the area. There was a core of folks who identified themselves as a regional group, but it took the energies of people like Lance Brockman, Dick Durst, and Jean Montgomery who kept asking, "Have you ever considered. . . a northern USITT section?" When people did something in response (by forming the Northern Boundary section), they entered into a bond that led to decades of friendships and collaborations within and outside the Institute. When a career opportunity appeared in the Southeast Section, I gradually found another advocate of the do something prompt -- Sylvia Hillyard Pannell. For me, the investment of action brought a deep involvement with interesting people engaged in activites that serve the greater good.
All those who respond to the prompt, "Will you be attending the next … Section meeting, workshop, Commission meeting, Annual Conference, or Prague Quadriannal?" are active, engaged folks setting out to do something which you, dear reader, should rush to join.
The prompt, "What would you like to... ," resulted in the creation of such activities as Cover the Walls, the annual YD&T Awards, participation in building the Quadriennal exhibit, supporting student portfolio reviews, and a flourshing set of publications honoring our design history. With the fine experience of the Fort Worth 2014 Conference & Stage Expo in mind, some of us remember we ran our Conference programming for decades without stage managers, until a decision to do something changed the landscape.
I would like to personally thank the members of the Institute who serve on the Finance Committee. These individuals bring their vision and skills to engage in frank discussions about moving forward. They take their obligation seriously and listen to the requests of those who bring their needs to the table. My years of involvement with the Committee helped prepare me for retirement activities such as dealing with local, state, and federal agencies and to stand on the courthouse steps to bid on foreclosed properties on behalf of the Athens Area Habitat for Humanity. And the theatre background (plywood, promotional campaigns, and meeting deadlines) seems to have been appreciated as we moved 45-plus families into homes.
After more than 30 years of two careers in academia, wy wife Carol and I found ourselves in joint service with an important nonprofit, the Jeannette Rankin Foundation in Athens, Georgia. This foundation provides renewable scholarships for women over 35 to return to college. Pass this information along to financial aid offices. Carol and I will continue our service of reading applications for JRF scholarhips, now electronically. We have returned to the Northern Boundary Section by moving to Bloomington, Minnesota where both daughters and their families celebrate winter.
An Epilogue
Asked for a simple guide on how to do to do something for the Institute's future, and I'll reply, like Count Basie's band members, with "Just one more once!"
Prompt: Have you ever considered a planned gift to the Institute? Interested persons can contact Carol Carrigan at the USITT Office for more information or to set up a planned gift.
Prompt: Would you like to support research projects, special exhibitions, awards, and fellowships awarded by the Institute? Go online to the USITT home page and click on the GiVE tab at the top of the page.
Prompt: Will you attend next year's conference in Cinncinnati? Read Sightlines and be sure to go online to register early to join your USITT colleagues, pay your dues, and make an annual gift at the same time.