Conference & Stage Expo
Kazoo Parade, Auction Highlight LRLR Celebration
A kazoo parade led by a tricycle, donation presentations, plus a raffle and live auction highlighted the Long Reach Long Riders (LRLR) celebration of their 11th ride during the Fort Worth 2014 Conference & Stage Expo. The group raised more than $12,000 at the event to benefit Behind the Scenes (BTS).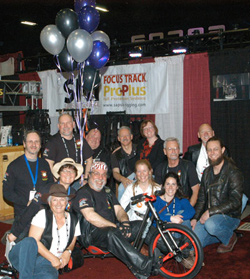 Bill Sapsis, LRLR emcee, honored Mt. Vernon (Indiana) High School's Short Reach Short Riders' (SRSR) and their annual tricycle ride fundraiser by leading the LRLR's opening kazoo parade on a tricycle. The SRSR group has raised $10,000 for BTS.
Dana Taylor and SRSR received a citation reading, "With an abundance of creativity and fun, you have shown the industry that small, persistent efforts can have monumental results."
The employees of Vincent Lighting Systems, through their long-term Workplace Giving Campaign, also reached the $10,000 total mark with their donation at the Conference. LRLR presented a certificate of appreciation to the company which was received by Paul Vincent, Kim Craigie, and Walt Weber.
Students from the USITT Chapter at Penn State University presented a check from ongoing fundraising activities. Significant contributions were received from Bill Sapsis, Rick and Patty Rudolph, and Tracey Cosgrove and Mark McKinney.
After a frenzied bidding war, Steve Terry won two tickets to Matilda on Broadway donated by IATSE Local 1, and a number of lucky individuals won the bidding for handcrafted items donated by Shan and Trish Ayers.
The winners and their prizes are:
Gabe Bristow - Grand Prize, Vectorworks Spotlight with Renderworks
Paul Graham – BTS Apollo Wrench and 10 Little Focus wrenches
Jim Davis – Technician's Tool Kit from Barbizon
Mike Wood - $250 Visa Gift Card from Daktronics
Chris Collins – Five theatre titles from Focal Press
Daniel Del Busto – GoPro from InterAmerica Stage
Josh Wroblewski – 50 sheets of gel from Lee Filters
Sheryl Sturges – Vermont's Finest Smokehouse Combo from Production Advantage
Joe Aldridge - $250 gift certificate from Sapsis Rigging
Jimmy Byrd – full USITT 2015 Conference & Stage Expo registration
Diana Raymond – ETC Source Four Mini from Vincent Lighting Systems
The companies who signed up for the Behind the Scenes Pledge-a-Product Program, in which a portion or all of a product's sales benefit BTS, were highlighted. Rosco made a donation of proceeds from the sales of Roscolux 359 Medium Violet, while Electronic Theatre Controls presented a check from downloads of the iRFR and aRFR smart phone app.
For more information about Behind the Scenes, visit www.estafoundation.org/bts.htm. For more information about the Long Reach Long Riders visit www.lrlr.org.