News & Notices
Luck of the Draw: My Weekend with a Fellow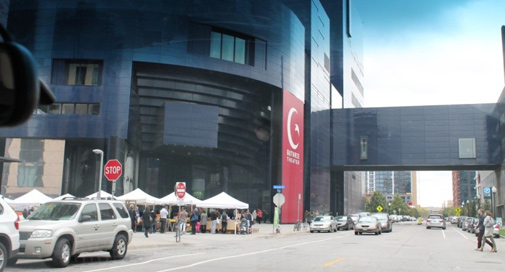 I wouldn't call myself the luckiest person, but I can't put into words how lucky I feel to have won this wonderful opportunity.
I was sitting in a costume workshop learning some really awesome tricks about quick changes when I kept getting text messages: COME TO THE EXPO FLOOR NOW!!!! WHERE ARE YOU!!! Not two seconds after the workshop ended, I got a phone call from a friend saying, "Get to the Expo now!" I got there and was told that I had won a mentorship with a Fellow. People were asking me if I was all right. Although I didn't look too excited, I was excited. I was just in shock! I don't think I truly believed it until I found out I'd be mentored by Jean Montgomery in Minneapolis, Minnesota. Talk about a whole lot of luck!
My mentorship began with a lot of nerves. I had no idea what to expect when I got to Minnesota, but getting there was just as nerve wracking. The weekend was packed with first experiences since I had never been on a plane before. Once I got through my first security check, got on my first flight, and landed in Minnesota, the nerves went away, and my amazing weekend began.
After Jean picked me up from the airport, I checked into my hotel room, and we went to see the Children's Theatre Company. This space was beautiful. I saw a fantastic set that I would see come to life on Sunday when we attended a performance of Charlotte's Web. I had an incredible experience when we went backstage and got to talk with Lighting, Video and Sound Director Craig Gottschalk. I was able to see how they run their theatre and how they use the spaces they own. I loved that the company was dedicated to children's theatre. Creating the magic within children's stories allows for new technical advances while bringing the story to life. Children are able to watch their favorite stories and characters become real.
After my backstage tour, Jean and I were off to an Arts Administration reception. I was introduced to Sherry Wager-Henry and many of her students from the Wisconsin School of Business of UW-Madison. Jean and I took advantage of a brainstorming exercise to network. Jean did not know if she would see anyone she knew, but we ran into a handful of her former students. It was a fantastic experience being able to talk to former students who have jobs in their field. This reception was a great way to network and discuss possible jobs I should investigate when I graduate.
That night, I turned in early only to get up early and begin my morning at the Walker Art Center. I did not know what to expect, but Jean hadn't steered me wrong yet. We met with Pearl Rea, and she gave us a tour of The Walker. This building did not have a single right angle in it, and it was stunning. I had never thought of using my skills as a stage manager to manage an art building, but after talking with Pearl and Jean over brunch, I realized how many different jobs I could consider.
The next part of my journey with Jean took us to The Guthrie Theater. We started off by meeting Jason Clusman at the Guthrie for a tour. The spaces there are beautiful, and the work they do in them is the same. I loved the variety of theatre styles they had to work with in their venue. Seeing all of their shop areas and their processes for the sets, props, costumes, and wigs was fascinating!
We got to see every space except for the McGuire Proscenium Theatre. They wanted to keep it a surprise for that evening when Jean and I would see Tribes. Before the show, we went out to dinner with Chris Code, the stage manager of Tribes, after he gave us the rundown of how he preps a show. Over dinner we talked about his job and the different ways we can use our skills. We discussed options like touring shows and when to join Actor's Equity. It was very helpful to hear about his experiences and the many options I have. After dinner Jean and I waited for the show to start by exploring more of The Guthrie on our own. Their production of Tribes was not what I expected, but it was an excellent show. This show was especially interesting because it was about the deaf community, and it really made the audience experience how the deaf live.
After experiencing Tribes on Saturday, it was nice to lighten things up and watch something from childhood. On my final day, we returned to the Children's Theatre Company for Charlotte's Web. I loved seeing this beloved tale come to life on stage. Watching the show was just as exciting as watching the children in the audience. After the show Jean and I wrapped up my stay with a little more sightseeing and dinner at the Rainforest Café. Then it was back to the airport where I boarded my flight and returned home.
As a student spoiled by theatre in Chicago, I would have never thought to look outside my area to work. Minneapolis was a beautiful place, and I am so thankful for the USITT Fellows Tim Kelly and Jean Montgomery for making all of this possible. Jean was a fabulous mentor, and everyone she introduced to me was informative and very kind. Meeting these people and speaking with them was such an eye-opening experience. I recommend every student who has the chance to enter the Find A Fellow drawing. I learned a lot about what I want to do with my future, and I hope someday that includes visiting Minneapolis again, maybe even working there. Thank you so much for this experience; it was definitely the highlight of my Fall Term!