News & Notices
Find a Fellow Mentorship visit (or the lost weekend)...
Katie Fecht from North Central College in Naperville, Illinois chose me to be her mentor (although I'm not quite sure why). Her interests lie in production management (okay, I get that part) and human resources management (that's stretch for me. but we do manage humans in the management field, so okay…). Katie, a junior, is interested in all things technical including lighting and stage management, so that made an interesting fit.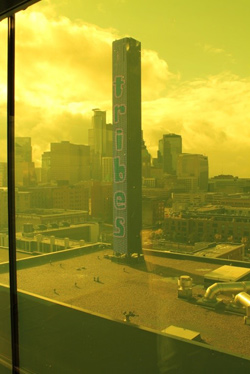 Our first challenge was scheduling the visit. Between her summer internships and my escapes to the East Coast, we couldn't make this happen until the October 18 to 20 weekend. I wanted to connect her with Sherry Wagner Henry, director of the Bolz Center for Arts Administration at the University of Wisconsin-Madison, who was heading a Leadership Training Session at the Minnesota Humanities Center that weekend. So we built around that.
Friday afternoon was spent at the Children's Theatre Company in Minneapolis in the lighting world. Katie was given the full tour by Craig Gottschalk (lighting, video, and sound director) and Dave Horn (master electrician). We returned on Sunday for the matinee of Charlotte's Web so we could see it all in action.
The Leadership reception Friday evening was an excellent opportunity for Katie to meet folks who work in human resources/management with various Twin Cities arts organizations. Several of our alumni in those fields attended and were happy to chat with her.
Saturday morning was spent with Pearl Rea, production manager, events and media production, at the Walker Art Center. This was right up Katie's alley, and we treated Pearl to brunch to continue chatting. Afternoon and evening were spent at the Guthrie with two of the stage managers, Jason Clusman and Chris Code. We stayed to see Tribes that evening. All of these visits included full tours of the nooks and crannies of the various venues with discussions about the operations. Mixed in with the drives to and fro were tours of the Twin Cities.
There were a lot of firsts for Katie on this adventure: first plane ride, first visit to the Twin Cities (she does want to re-visit), and first shopping trip to the Mall of America (I purposely booked her motel near it). We spent time talking about future opportunities for her: internships in the Chicago area which would be more manageable for her in terms of living/budgeting, opportunities in her various fields of interest, life in the theatre, and human resource management. Katie asked great questions, was interested in everything she saw (camera in-hand), and had a good sense of humor (a necessity if you travel in my world). It was a pleasure to spend time with her learning about her world, too.