News & Notices
Sound Designer Janie Bullard Named 2014 Rising Star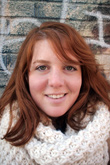 Janie Bullard, a talented young sound designer already in demand in New York's indie theatre circle, will receive the ninth annual USITT Rising Star Award sponsored by LDI / Studio Live Design.
Ms. Bullard received her MFA in sound design from the University of North Carolina School of the Arts in May 2010, moved to New York, and has earned a reputation as a hard-working, enthusiastic, and imaginative artist, her nominators wrote.
"She has already made significant progress building her own career as a sound designer, with more than 40 sound designs regionally and in New York City," wrote Jason Romney, associate professor of sound design at UNCSA. "Receiving the Rising Star Award will further serve to accelerate her already promising career."
Ms. Bullard will receive a $1,000 cash prize and free registration to the 2014 Annual Conference & Stage Expo in Fort Worth, Texas, where she will accept the award. The Rising Star Award was established with a donation from LDI in 2004 to annually recognize excellence and artistic achievement by a young professional in scenic, lighting, sound, and/or projection design.
A North Carolina native, Ms. Bullard received her BA in dramatic art from the University of North Carolina - Chapel Hill in 2007. In grad school at UNCSA, she was a teaching assistant for David E. Smith, director of the Theatre Sound Program, and assisted him on sound designs for Triad Stage in Greensboro, North Carolina.
"They loved Janie at Triad Stage so much that she went on to design the sound for Around the World in Eighty Days and Ethel Waters for them," he wrote. "Janie's demeanor and attitude are second to none."
On graduating UNCSA, she "packed up everything I owned into a rental SUV and moved in with a friend of a friend" in Queens, she said. "I had $6,000 in savings and one sound design gig lined up with the Sonnet Repertory Theatre" founded in 2002 by several UNCSA graduates to produce "classic theatre for the modern planet."
"On a whim," she emailed her resume to the Rattlestick Playwrights Theatre, "known for doing some gritty, dark plays that other companies might pass by," she wrote.
That launched her into downtown theatre. For three years, she designed for Rattlestick and other indie theatre while doing some side jobs to pay the rent.
She has since "been designing like crazy" and producing original music for such shows as The Place We Built for the Lee Strasburg Theatre and Film Institute, Storyville for the York Theatre Company, and Pirira for Theatre 167. Indie Theatre Now named her one of its 15 People of the Year for 2013.
"I'm still not making much money, but luckily I've been able to find plenty of side jobs to supplement my income," she wrote. "I don't mind slinging a wrench. It allows me the flexibility to design the projects I feel good about."
Daniel Talbott, a playwright, director, and literary manager of the Rattlestick Playwrights Theatre, sees a bright future for the young designer he now calls a friend and a collaborator.
"Janie has a huge heart, an inquisitive mind, and a profound love and obsession (in the best sense of the word) with sound and the theatre," he wrote. "I really believe that she has all the talent, intelligence, and motivation in the world to continue to have a remarkable career."
For more information on the USITT Rising Star Award, click here. To see Janie Bullard's website, go to www.janiebullard.com.