News From
Sustaining Members
USHIO America, Inc.: Welcome New Member
USITT welcomes USHIO America, Inc. as a new Sustaining member of the Institute. Visit the website at www.ushio.com or see them at their booth at Stage Expo.
Dallas Stage Scenery, Inc.: Scenery Company Joins Sustaining Ranks
As USITT heads to Fort Worth, we also welcome Dallas Stage Scenery, Inc. as a new Sustaining member. The company is adept at fabricating custom scenery, backdrops, and stage props. They also provide rental staging, pipe and drape, cycs, scrim, and theatrical equipment.
Aquarii, Inc.: National Office 'Neighbor' to Display at Stage Expo
Another new Sustaining member, Aquarii, Inc., is based just a few miles from the USITT National Office. Aquarii has introduced Aceleron, an LED with five lens angles, four color temperatures, and wattages up to 150W and 15,000 lumens, and is exhibiting at Stage Expo. The company was founded in 2013.
Batts Audio, Video & Lighting, Inc.: Rejoins Institute as Sustaining Member
Batts Audio, Video & Lighting, Inc. has recently rejoined USITT after a long absence. To learn more, visit them at www.battsavl.com or at Stage Expo.
Show Sage: Company Joins USITT, Stage Expo
We also welcome Show Sage to both membership in USITT and to Stage Expo. Founded in 2001, the company provides visual technology solutions. Learn more at www.showsage.com.
iWeiss: Firm Announces Leadership Changes
As of January 1, Jennifer Tankleff became president of iWeiss and acquired an equal stock partnership with David Rosenberg.
Ms. Tankleff will handle day-to-day operations and oversee larger projects. Mr. Rosenberg assumes the role of CEO managing long term strategic planning and finances.
In addition, Richard Parks was made vice president of the company. Having been with iWeiss for 13 years, most recently as senior project manager, he will oversee all rigging and installation work, the continued expansion of the company's automation products, and business development in all of these areas.
TMB: Equipment Aids Nashville Company's Expansion
TMB recently provided live production equipment to Elite Multimedia Productions (EMP), a Nashville-based professional sound, lighting and video company, to accommodate the company's expected growth in 2014.
With a number of large acts already on board for 2014, including American Country Music's 2013 Entertainer of the Year Luke Bryan, EMP purchased five ProPower Lighting Distros, 20 ProPlex Data Distribution splitters, and miles of ProPlex cable outfitted with Neutrik's Ethercon connectors to handle the increased workload.
Find out more about TMB at www.tmb.com.
L-ACOUSTICS: Pearl Jam Electrifies with K1 System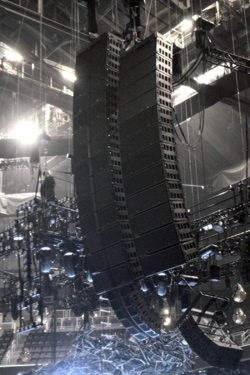 Pearl Jam very recently wrapped up a sold-out, two-month sweep of North American arenas in support of its tenth and latest studio album, Lightning Bolt. The Seattle-based rock band's first official return to the tour circuit since 2010 carried a full L-ACOUSTICS K1 system supplied by Rat Sound Systems, Inc.
Click here for more information.
Nemetschek Vectorworks, Inc.: Releases Japanese Version of Design Software
Nemetschek Vectorworks, Inc. announced that the Japanese-language version of the Vectorworks 2014 line of design software is now available. These include Vectorworks Designer, Architect, Landmark, Spotlight, Fundamentals, and Renderworks.
A&A Co., Ltd., the distributor of Vectorworks software in Japan, held a series of pre-launch events last month and, February 24, will hold several online product launch events. More information about the online events can be found here.
Click here to find a local distributor.
Alcons: Sound System Marches on with Production
In October 2010, an Alcons LR14 loudspeaker system took its bow at the first performances of Soldaat van Oranje, De Musical (Soldier of Orange, the Musical), a huge, technically complex theatrical production based on the book by Erik Hazelhoff Roelfzema and the film of the same name. Three years, a thousand performances, and over a million audience members later, the Alcons system is still performing flawlessly for the Netherlands production.
Housed in a converted aircraft hangar at a former military aerodrome in Valkenburg, near the city of Leiden, the production tells the story of a group of Dutch students in World War Two, each of whom follows a different path during the conflict, either as a collaborator or as part of the resistance under Nazi occupation.
Due to run until at least August, current plans are to export this production to the United Kingdom, the United States, Japan, and the Middle East.
For more information visit, www.adigroup.net and www.evolutionaryaudiosolutions.com.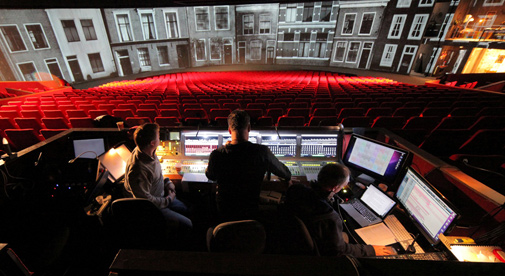 GLP: LEDs Illuminate Christmas Jam
Preston Hoffman provided a dynamic lightshow with a difference for the third consecutive year at the annual Warren Haynes Christmas Jam. He decided to use GLP's new compact impression X4S almost exclusively, bolstered by few other discharge or conventional tungsten effects.
Mr. Hoffman praised GLP's compact LED head, which dominated the set.