News From
Sustaining Members
IATSE Local 126: Welcome Local
We welcome IATSE Local 126 as a new Sustaining member.
The International Alliance of Theatrical Stage Employees, Moving Picture Technicians, Artists and Allied Crafts local, with a website at www.iatse126.com represents workers in Fort Worth, Arlington, Denton, Gainesville, and Grapevine, Texas.
They will be exhibiting at Stage Expo.
Baby Lock: Visit New Sustaining Member at Stage Expo
Also exhibiting at Stage Expo for the first time will be Baby Lock, a new Sustaining member. For over 40 years Baby Lock has been "dedicated to the love of sewing" by creating machines for sewing, embroidery, quilting, and serging. The company prides itself on machines that are easy to use, are of high quality, and have a touch of elegance. In addition to easy-to-thread sergers and machines for sewers of any level, Baby Lock works to enhance the love of sewing with an extensive line of sewing supplies including feet, accessories, software, and stabilizers.
Visit them online at www.babylock.com and then at Stage Expo March 26 to 29.
Propared, LLC: Joins as Sustaining Member
Propared, LLC has joined the Institute as a Sustaining member. The company, whose tag line is creating productivity solutions for the live event industry, is a cloud-based productivity and collaboration tool for stage managers, production managers, and other live event professionals to manage people, time, and resource.
To see who is involved and watch their progress, visit www.propared.com and click on "progress blog."
Theatre Projects Consultants, Inc.: Arena Reborn with State-of-the-Art Technology
To call the last two years of work on the Long Beach Arena "a renovation" would be a substantial understatement. In reality, the work done by Theatre Projects Consultants, Inc.  could more accurately be described as a reinvention — breathing new life and new commercial potential into a venue that, at 50 years old, had fallen behind its newer, larger competitors.
Theatre Consultants helped design of one of the country's largest flying truss and tension grid systems. The expansive grid can be lowered over the 45,000-square-foot convention floor to any desired height, helping define the new ballroom. Curtains hung from a surrounding truss are lowered, obscuring the view of the arena seats, creating a separate, intimate space on the arena floor. The ballroom, capable of seating up to 5,000 guests, can be customized into any seating configuration desired, and the built-in audio and lighting systems adapted in infinite arrangements.
Nemetschek Vectorworks, Inc.: Releases Spanish-Language Software
Nemetschek Vectorworks, Inc., recently released the Spanish-language version of the 2014 Vectorworks line of design software, including: Vectorworks Designer, Architect, Landmark, Spotlight, Fundamentals and Renderworks. The Spanish-language version will be available throughout the Americas, the Caribbean, and Spain.
Visit www.vectorworks.net/espanol for Spanish-language resources. Additional information about the 2014 release is available at www.vectorworks.net/2014. To find a local distributor, visit www.vectorworks.net/international. The Portuguese localized version of Vectorworks 2014 software was released in Brazil on October 31. A recording of the Vectorworks 2014 Brazil launch virtual event is available at www.vectorworks.com.br/2014/login.
L-ACOUSTICS: Small Concert Venue in Philly Updates System
Although the Theatre of Living Arts (TLA) was best known as a host for art house films and campy touring Broadway shows like Little Shop of Horrors and The Rocky Horror Picture Show, the TLA has steadily evolved into Philadelphia's premiere small concert venue for edgy, up-and-coming artists. The club recently added a new ARCS II loudspeaker system from L-ACOUSTICS replacing an 18-year-old Clair R4/S4 house PA.
After more than 20 years in business, TLA still hosts bands nearly every night of the week. For more details on the venue, visit www.tlaphilly.com. Live Nation and Clair Brothers Audio Systems, Inc. can be found online at www.livenation.com and www.clairsystems.com, respectively.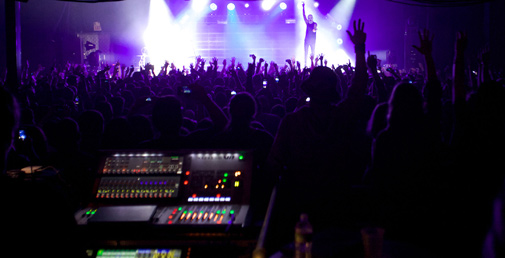 GLP: Designer Taps LED Spots for Rock Band Tour
Lighting designer Liam Griffiths recently selected GLP's impression LED spots to use on tour with New Zealand alternative rock band The Naked and Famous.
Eighteen GLP X4 fixtures were obtained from PRG in Los Angeles then integrated them into the touring floor package, consisting of six legs of curved truss, with the house rig at San Diego's House Of Blues where the world tour kicked off.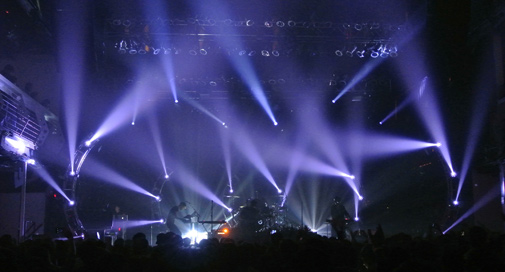 Meyer Sound: Introduces Stage Monitor, Products Used in Peru
Meyer Sound has expanded its on-stage solutions with the new, self-powered MJF-210 low-profile high-power stage monitor. Built for the demanding needs of today's live productions, the MJF-210 is the lightest stage monitor in the company product line and carries the remarkable sonic performance of the MJF-212A stage monitor, which has been used by Metallica, Usher, Judas Priest, and Michael Bublé.
Learn more about the MJF-210 stage monitor at meyersound.com/products/ultraseries/mjf-210
Lima, Peru-based DBLUX S.A.C. recently debuted its new Meyer Sound LEO linear large-scale sound reinforcement system at the Pilsen Callao Festival in Lima's National Stadium (Estadio Nacional). The LEO system is the first in Peru, and it supported an all-star Latin American lineup headlined by salsa superstar Rubén Blades.
Shortly after its National Stadium debut, the LEO system provided sound reinforcement for 30,000 people attending Festival Claro at Lima's Plaza San Martin.