News & Notices
McCarthy Tapped as Distinguished Achiever in Sound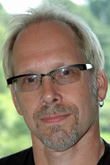 Bob McCarthy has been a major voice in sound engineering since the mid-1980s when the concept of measuring live sound was, well, unheard of.
Today, he is known as a pioneer of Meyer Sound's SIM project, a teacher who has influenced technicians around the world, and an author who wrote the book on sound system design.
He will add USITT Distinguished Achiever in Sound Design to that list next March when he receives that award at the 2014 Annual Conference & Stage Expo in Fort Worth, Texas.
"This is a big honor for me," he said. "I am very excited."
He's also excited that the Sound Lab will feature live music for the first time – making 2014 a banner year for audiophiles interested in live production.
Sound Design & Technology Commissioner Curtis Craig nominated Mr. McCarthy for the award. "His entire career has been spent behind the scenes, constantly pushing to refine and redefine the sound of live events," Mr. Craig wrote. "It would be impossible to name any large, high profile event, tour, or Broadway production that cannot be connected back to Mr. McCarthy directly, or to his tools, techniques, or teachings."
Bob McCarthy  started his career aspiring to be a music major at Indiana University -- which he said "ended in one day, when I saw how good the other music students were. I was terrible."
He put down his guitar but stayed involved recording and mixing sound for college performances -- and convinced IU to customize a major for him, a BS in audio engineering. "It's now recognized as a legitimate field of study, but at the time it was a radical thing," he said.
Upon graduating in 1977, he worked as a roadie for the Grateful Dead, the Kinks, Jackson Browne, and other rock bands. That exposed him to the work of John Meyer, whose JM-10 speaker system was the first designed for high-powered rock concerts. In 1979, John Meyer founded Meyer Sound, and in 1983 Bob McCarthy joined Meyer as a bench test technician.
A year later, he helped create SIM – Source Independent Measurement – with Mr. Meyer, Don "Dr. Don" Pearson of Ultrasound, and Alexander "Thorny" Yuill-Thornton. Mr. Meyer launched his idea of continuously testing a live show at a 1984 Rush concert using a two-channel analyzer to measure the speaker system while the music played.
"I was there from Day Two," Mr. McCarthy said of SIM. "John did the first concert Saturday and I was involved by Monday morning." They realized they were onto something big, even if the rock world didn't.
"In the '80s, we were a voice crying in the wilderness, and the world of rock and roll was not ready to hear that voice," he said. "With rock bands, if you could make them sound louder, that was great, but to make them sound clearer, they weren't into that."
He calls 1984 to 1987, "The Stone Knives and Bear Skins Era." They turned to the theatre world to hone their new tools, starting with the London production of Chess with Andrew Bruce and arena concerts with Luciano Pavarotti. By 1987 they could compare live sound at eight locations around a venue and achieve the most clean, uniform sound ever amplified.
They used the first multi-channel SIM for Stevie Wonder in eight nights at London's Wembley Arena in May '87. "These shows taught us more than the previous three years combined," Mr. McCarthy said.
Seeing a sound guy "staring at what looked like medical equipment" struck people as odd, he added. "They looked at us like we were crazy and made fun of us," he said. "Someone even brought me a lab coat."
He credits Andrew Bruce, Abe Jacobs, Tony Meola, Tom Clark, Jonathan Deans, and Duncan Edwards, among others, with using the ground-breaking technology to build "illustrious careers" in sound design. He calls SIM the parent that spawned many "sons of SIM" that used the same technology to make continuous sound monitoring "absolutely common."
Mr. McCarthy's mission became making amplified sound so uniform and clean as to render the sound system invisible. He has helped usher in three more generations of SIM, put them to use in productions the world over, and taught his methods to hundreds of technicians in the field.
He also has written four books, with his 2007 Sound Systems: Design and Optimization considered the sound design bible.
These days, after several years as an independent consultant for the likes of Disney and Cirque du Soleil, he accepted "an offer I couldn't refuse" to return to Meyer as director of system optimization.
He says his ideal remains the sound system that's heard but not noticed.
"To make it sound good is the artist's job, not mine," he says. "I provide the canvas they draw on. All these designers are tremendous visionaries … I just want to give them a nice, clean canvas so all they have to think about is the wonderful art they want to achieve and not get bogged down in problems of physics."