News From
Around the Institute
These Boots Are Made in Texas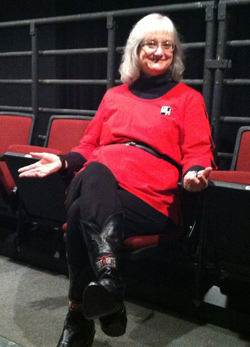 MC Friedrich, winner of the drawing for a pair of custom-made boots from the Fort Worth Convention & Visitors Bureau, has checked in to report that the boots have arrived!
We hope that they, and she, are ready to travel to Texas for the Annual Conference & Stage Expo coming up sooner than we expect! Ask her about the process March 26 to 29!
App 'Apple' of Firm's Line
Congrats to StageWrite Software on its recent inclusion as part of the Apple "Life on iPad" campaign. "We are truly honored to be featured on Apple's Homepage for iPad, chosen from over 140,000 iPad apps," the company wrote to its followers.

Apple wanted to capture StageWrite in action during a recent Broadway rehearsal as part of its "Life on iPad" and recently filmed and photographed a rehearsal showing the app in action. Since the time of its release a year and a half ago, the app is now being used by over 17 Broadway shows, national tours, and entertainment companies (Cirque du Soleil, Disney, Universal).
Donations Approach $150,000
At the recent LDI show, Dennis Varian of ETC presented a check for nearly $26,000 to Behind the Scenes, which reflected ongoing proceeds from sales of the iRFR and aRFR (Radio Focus Remote) application for iPhone, iPod Touch, and Android. The donation brings ETC's total Behind the Scenes contributions to just under $150,000.
Individuals or companies can support Behind the Scenes by making donations online at www.estafoundation.org/bts.htm or by calling 212-244-1421.