News & Notices
Members Admitted to ASTC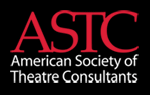 Four USITT members are among six theatre consultants who have been admitted to the American Society of Theatre Consultants (ASTC) after meeting its stringent requirements.
Tony Forman, senior consultant with Sustaining Member Theatre Projects Consultants Inc. of South Norwalk, Connecticut has over 25 years' experience in theatre and has been project manager on more than 30 venues for TPC.
Robert Hill, senior associate with Sustaining Member Auerbach Pollock Friedlander of San Francisco, California brings 15 years of theatre technology and lighting experience, including work on more than 100 operas, to his work on theatrical venues.
Harold "Chip" Ulich, consultant with Supporting Member Schuler Shook of Minneapolis, Dallas, and Chicago, directed operations at Herberger Theater Center in Phoenix, Arizona, and the Scottsdale Cultural Council before joining Schuler in 2006 to work on performing arts venues.
Paul Sanow, consultant with member Bill Conner of Bill Conner Associates LLC  in Oak Park, Illinois, worked for Vincent Lighting Systems for 15 years before joining Conner in 2007, and now works on regional and educational theatres.
A theatre consultant provides professional guidance, advice, and support to theatre owners and design teams for the planning, design, and equipping of theatres, concert halls, and other facilities used for public assembly and presentation of performing arts.
ASTC has a current membership of 76 individuals representing 34 theatre consulting offices. For more information, visit www.theatreconsultants.org