News & Notices
New Officers Elected for 2014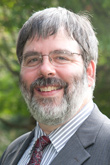 Mark Shanda has received the nod to serve as President-Elect and will then become the Institute president following voting by USITT members in the 2014 election cycle. He will serve a year as President-Elect starting July 1, 2014 and then assume the presidency on July 1, 2015.
Others elected in voting which closed December 11 are:
Board of Directors
Mickey Henry
Rafael Jaen
Shane Kelly
Karen Maness
Michael McNamara
Vickie Scott
Elected as officers are:
Secretary: Jimmie Byrd
VP for Conferences: Jack Feivou
VP for Commissions: Carolyn Satter
VP for International Activities: Marketa Fantova
All will serve three year terms starting on July 1, 2014.
Sherry Wagner-Henry, chair of the Nominations Committee and current Secretary of the Institute, confirmed the results of voting which was conducted both online and by paper ballot for those who requested to use that method. More than 20 percent of eligible members participated in the process, a greater turnout than in many national elections.
With the 2014 elections closed, work is intensifying on the nominations process for 2015.
Information on the 2015 election timeline can be found here »
Find the answers to frequently asked questions about the entire process here »