Commissions
Costumers Get Portfolio Review Opportunity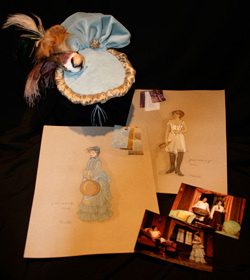 In the world of theatre, where the first language artists speak is "visual," the portfolio may be the single most important marketing tool a designer or technician has. Each March, at the USITT Annual Conference & Stage Expo, the Costume Design & Technology Commission hosts several days of portfolio reviews. Students and professionals benefit from the feedback and encouragement they receive from costume design and tech faculty and industry professionals. Reviewers are treated to a look at the work of up-and-coming artists and have the opportunity to mentor them in a collegial environment.
Portfolio reviews are one more way the Commission is working to ensure all of its members' interests are addressed. Review slots fill up quickly, so sign up as soon as times are posted. Professionals looking for an opportunity to serve should consider signing up to conduct reviews. It does not take a lot of time, and anyone new to the process will be teamed with a colleague who has done reviews at previous conferences.
Every person who requests a review will present his or her work to two professionals who will offer their advice on format, content, sequencing, page layout, and content. Reviews can be geared toward individual questions or concerns. Even mid-career costumers find feedback invaluable when it's time to update the look of their portfolios.
Various career levels have different goals in a portfolio. Each individual brings a unique viewpoint and personality and a portfolio should reflect that, rather than look like anybody else's. Getting quality feedback will help insure the portfolio does this as effectively as possible.
For more information or to sign up as a reviewer, contact Esther Van Eek at evaneek@uwindsor.ca.