News & Notices
World Scenography Editors Receive Golden Pen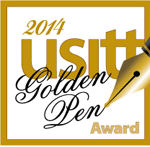 Eric Fielding and Peter McKinnon will receive USITT's 2014 Golden Pen Award for their book World Scenography 1975-1990, the impressive pilot in a planned series documenting world stage design since 1975. They have been invited to sign copies of the book as part of the 2014 Annual Conference where the book will also be sold in the USITT Marketplace.
The two design professors teamed up on the ambitious project  to continue the work of the late René Hainaux of Belgium, whose four-volume series World Stage Design Throughout the World documented theatrical design from 1935 to 1975.
Mr. Fielding, professor emeritus and resident set designer at Brigham Young University in Utah, and Mr. McKinnon, theatre professor and lighting designer at York University in Toronto, both treasured Hainaux's books and worried that contemporary stage designs would be lost.
"Once the curtain comes down on the final night of a performance, most of the scenery ends up in a landfill," Mr. McKinnon told YorkU magazine. At a scenography forum at PQ 2007, he heard Mr. Fielding remark that someone should preserve a record of influential world stage design work picking up where Hainaux left off in 1975. Mr. McKinnon offered to help him do just that.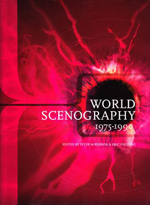 The resulting volume, published by OISTAT last year, is 432 pages filled with 1,300 photos of 430 stage and lighting designs from 60 countries. It took a team of researchers and five associate editors around the world four years to assemble the collection of ground-breaking work in theatre, dance, opera, and "spectacle" from 23 to 38 years ago.
The featured designs are too many to list but include Maria Björnson's 1988 work on Phantom of the Opera (France/UK), the designs of Brian Thomson (Australia) and Sue Blane (UK) for the original Rocky Horror Show (1974), German designer Achim Freyer's 1982 The Magic Flute designs, Ming Cho Lee's K2 set (1982), and Brazilian puppet designer Alvaro Apocalypse's work for Group Giramundo's Chalk (1979).
The Golden Pen winner was chosen by a Publications subcommittee led by Mike Monsos. The five panelists were wowed by World Scenography. "This book is an astonishing example of research and presentation of work … that fills a gaping hole in the documentation of live performance," one wrote.
The editors plan two more volumes: World Scenography 1990-2005 is in the works and is to be followed by World Scenography 2005-2015. After that, OISTAT hopes to produce a new volume every 10 years.
Besides this important work, Eric Fielding and Peter McKinnon boast impressive credentials. Mr. Fielding -- a 30-year member of USITT, OISTAT, and United Scenic Artists -- has designed for the Utah Opera, Denver Center Theatre Company, and the Hill Cumorah Pageant. He won a 1991 PQ Gold Medal for his design of the exhibition Mozart in America and was creator and director of the first World Stage Design exhibit in Toronto in 2005. Mr. McKinnon's lighting design work includes the ballets of William Forsyth, John Butler, and Brian MacDonald; modern dance by Paul Taylor, Judy Jarvis, and James Kudelka; and many opera productions. He is founder/director of two production companies and recently served as production manager of Evil Dead: The Musical in Toronto. He currently sits on the executive board of OISTAT and several theatre companies.
The editors will receive the 2014 Golden Pen Award at the 54th Annual Conference & Stage Expo March 26 to29 in Fort Worth, Texas. This will include a book-signing event.
The Golden Pen Award recognizes outstanding books on performing arts design and production. Previous winners include Richard Pilbrow's A Theatre Project (2013), Deborah Nadoolman Landis' Dressed: A Century of Hollywood Costume Design (2009), and Max Keller's Light Fantastic (2001).