News & Notices
Bakkom to Receive USITT Award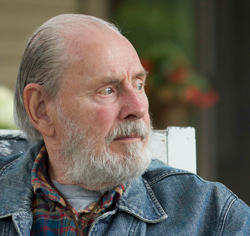 James R. Bakkom – Minneapolis-based set designer, prop master, costume designer, craftsman, art director, painter, sculptor, and teacher – will receive the Institute's highest honor, the USITT Award, in 2014.
The award recognizes a lifetime contribution to the performing arts or entertainment communities. It will be presented at the 2014 Annual Conference & Stage Expo March 26 to 29 in Fort Worth, Texas.
Mr. Bakkom said he learned of the honor about the same time as he was diagnosed with Parkinson's disease last year, but he plans to attend the Conference.
"If I have to get up and do a one-hour comedy routine about props, I'll be dead in the water," he joked. "But I'm far apiece from being a total invalid just yet, so I am planning to be there."
Mr. Bakkom's brilliant artistry and hilarious sense of humor endeared him to anyone fortunate enough to work with him or attend his classes, wrote USITT board member Bob Scales, who joined Past President Richard Devin in nominating Mr. Bakkom for the award.
"As Jim has become more senior, he has concentrated on his fine art, but his activity as a prop master, teacher, and designer continues to resonate as inspiration to many designers and crafts persons in the theatre today," Mr. Scales wrote. "As a prop maker, Jim is fearless in attempting anything that a theatre production might need. When asked to provide a certain prop, I never heard him say that is not possible or we can't afford it."
Within USITT, he is most famous for his many "Garbage to Grandeur" workshops that taught how to use found, recycled, or repurposed materials to make props or scenery, long before the term "sustainable set design" existed.
Growing up in the Midwest, he showed a penchant for art and fell in love with movies and theatre. He majored in art and theatre at Beloit College in Wisconsin in 1960 and received his MFA in directing and design from Yale University School of Drama in 1964. The next season, he joined the then-new Guthrie Theatre in Minneapolis, Minnesota as property master. There, he helped realize the designs of such talents as Tanya Moisevitch, Desmond Heeley, and Lewis Brown. He was always looking for new materials – like polystyrene – or old castoffs to use in his work.
"Back then, it was the age of new materials, and because we were in prop and scenery, we ran the gamut," he said. "We were able to discover new things and use things like Styrofoam that were already discovered, but nobody was misusing it the way we did."
After 10 years at the Guthrie, he became a freelance set designer on projects throughout North America, including the Manitoba Theater, Minnesota Opera, Ford's Theatre, the Portland Stage Company, and theme parks including Busch Gardens. He has designed and taught at the University of Washington, University of New Mexico, Temple University, the University of Virginia, and the University of Wisconsin.
Starting in the mid-1990s, he went into production design work for TV and film, working on show sets for the Discovery Channel, HGTV, and Comedy Central, among others, and independent films including the acclaimed Sweet Land (2005). In recent years, he has focused on fine art, producing many paintings, illustrations, and sculptures. His current obsession is Scarecrow DNA, a series of drawings and sculptures with a surrealist scarecrow theme. He is the subject of a 2009 documentary film, Getting Lost in My Own Art by Mark Wojahn that was shown at the 2013 Annual Conference & Stage Expo.
Mr. Bakkom said he plans to bring some examples of his work – including a mask and sword he made for a 1968 production of House of Atreus at the Guthrie – and show clips of the film. But, he said, "I don't exactly have closets full of props I've dragged through the years. I mean, how much can you put in the garage?"
He said he'll also bring "40 or 50 years" worth of stories, "good, bad, or indifferent." One of the bad ones involves a thrust catching on fire. "Over the years I did a lot of things that, if told right, are kind of funny," he said.
His funny, playful, enthusiastic manner has been described as "contagious," "infectious," and most of all, "inspirational" by theatre colleagues and students. But he doesn't think of himself as inspirational -- just inspired.
And humble. "I am honored, but also stymied," he said of being chosen for the award. "I know a lot of people who would be an easier choice than me."