Commissions
Renowned Psychologist to Lead Career Session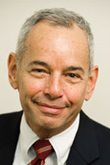 The Education Commission will welcome Dr. Stephen Brady to the 2013 Annual Conference & Stage Expo in Fort Worth, Texas. Dr. Brady will hold a student-only session 1 to 2:30 p.m. Friday, March 28.
This session will focus on the unique challenges of working with supervisors, mentors, and faculty who hold grading power and yet, in a theatrical setting, are often coworkers as well. How can students work to reduce conflict?  It will provide an open forum for students to discuss their concerns and receive professional feedback. The Commission asks that only students attend.
The Commission also plans a professional development workshop (PDW) on leadership training 9 a.m. to noon Saturday, March 29. It will look at understanding and increasing emotional intelligence as well as practical skills related to managing up and down the hierarchy with faculty, staff, and students. Particular attention will be paid to the unique challenges of supervising technical theatre students given the intensity and demands in a production environment.
Dr. Brady has an ongoing interest in career development and is a sought after workshop leader in the area of emotional intelligence and careers. He recently led workshops for undergraduate minority scholars, graduate students in mental health, junior medical school faculty, and doctoral students in basic science. He is a counseling psychologist who received his M.A. and Ph.D. degrees from the University of California, Santa Barbara. He is a longtime member of the Boston University faculty where he is an associate professor of psychiatry and director of the Mental Health and Behavioral Medicine Program, a master's counseling program where he specializes in teaching career development.
In addition to his work in the area of career development, Dr. Brady is a noted scholar in the area of HIV prevention and is currently the principal investigator for a National Institute of Mental Health study "HIV Prevention for the Mentally Ill: Motivation-Skills."