News & Notices
Vincent Tapped for Board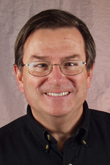 Paul Vincent, owner and president of Vincent Lighting Systems, will fill a seat on USITT's Board of Directors left vacant by the death of Tayneshia Jefferson.
Ms. Jefferson was among six board members elected for the 2013-2016 term last December and who took office July 1. On July 31, Ms. Jefferson died suddenly of a brain aneurysm.
Mr. Vincent, a member since 1974, has an MA in theatre from the University of Cincinnati and worked for Kliegl Bros., Colortran, and Strand Lighting before starting his own business in 1978. Vincent Lighting Systems is now a national Contributing Member and a Sustaining Member of the Ohio Valley Regional Section.
Mr. Vincent has been active in USITT at both the regional and national level, and was named a Fellow of the Institute in 2004. He received the 2009 Thomas DeGaetani Award for his leadership in the entertainment industry.
"It would be an honor to serve USITT and its members as a board member," he wrote. "My goal is to provide clear thinking, strong experience, and good judgment in executing board responsibilities."
He was formally welcomed to the Board during its November 12 meeting.