News From
Sustaining Members
TMB: Wins PLASA Award for Sustainability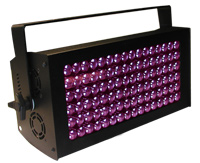 At this year's PLASA Show Awards Ceremony, October 7 at ExCel, London, the Solaris LED Flare lighting and effects fixture was honored with the coveted PLASA Sustainability Award. The eco-friendly concept behind the Flare's design was recognized by the PLASA Innovation Award judges.
TMB is worldwide exclusive distributor for Solaris LED Flare: www.tmb.com/products/flare. Learn more about many other products from TMB at www.tmb.com.
L-ACOUSTICS: Installs Sound Package at Historic Capitol Theater
First opened in 1928, the Capitol Theater is the oldest and second largest venue in Madison, Wisconsin's Overture Center for the Arts complex, which today encompasses seven performance facilities and four art galleries.
Despite undergoing a major renovation project eight years ago, the Capitol's sound reinforcement system hadn't been updated for nearly two decades, prompting the recent installation of a new L-ACOUSTICS amplifier and loudspeaker package.
For more information on the Capitol Theater at Overture Center for the Arts, visit www.overturecenter.com.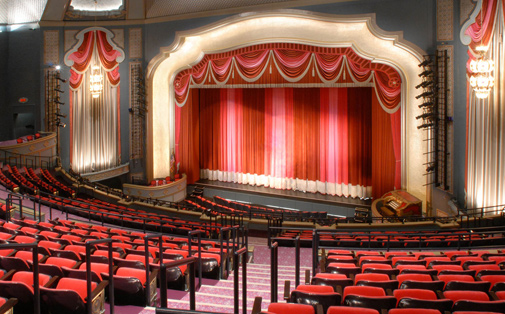 Stagecraft Institute of Las Vegas: Offer Qualification Seals
The Stagecraft Institute of Las Vegas will offer three Seals of Qualification for the summer 2014 season. This includes the second year for lighting systems and programming and premiere Seals for audio and lighting technology.
All Seals include both written and practical exams that will cover topics addressed in the corresponding SILV classes. Click here to learn more.
Theatre Projects Consultants: Arts Center Designed to Showcase, Nurture Artists
In 2005, when Virginia Polytechnic Institute and State University in Blacksburg, Virginia, launched its arts initiative, it reaffirmed its dedication to nurturing, showcasing, and incorporating the arts into cross-disciplinary fields. Theatre Projects Consultants had a huge role in the design of the Moss Arts Center which opened November 1.
The arts center is a 147,000-square-foot facility featuring a 1,300-seat, multipurpose auditorium; a multimedia development studio; several art galleries; a TV studio; administrative offices; and the Collaborative Performance Lab, a modified black box theatre, known as "The Cube." Theatre Projects helped design the center, which was in part a renovation of a former campus dining facility, now transformed into the backstage area of the 1,300-seat theatre. From designing an innovative visual and interactive arts lab to coordinating lighting positions and rigging points through the theatre's complex ceiling, Theatre Projects found creative solutions to reconcile the school's vision for a state-of-the-art, multi-venue arts center with the practical hurdles of theatre design, planning, and construction.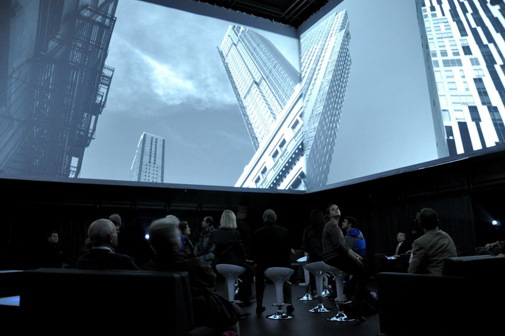 IATSE: Labour Board Presents Contract to Local, Film Producer
A one-year contract was presented to IATSE Local 849 and Egg Films of Nova Scotia, Canada by the province's Labour Relations Board on September 19, heralding the end of a more than three-year long process. It was the first time the board imposed contract arbitration under recent legislation.
Egg Films is the largest producer of commercials in Canada. Local 849 members say they look forward to a positive working relationship with Egg Films in the years to come.
Nemetschek Vectorworks, Inc.: Releases New Cloud App Version
Nemetschek Vectorworks, Inc. has released a new version of the Vectorworks Cloud Services mobile application, Vectorworks Nomad 2.5.
The 2.5 version of Vectorworks Nomad has been updated to include integration with Dropbox, so users can connect their Dropbox accounts to Vectorworks Cloud Services and access Dropbox files from the mobile application. Also, Vectorworks Cloud Services can now process VWX files that are stored within a Dropbox account and generate PDFs.
Vectorworks Cloud Services is available to members of the Vectorworks Service Select subscription program. To learn more, visit www.vectorworks.net/cloudservices.
GLP: Products Win Two in a Row at WFX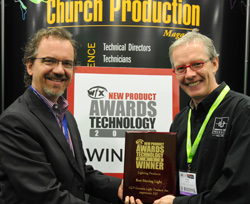 After picking up the WFX 2012 New Technology Award for Best Moving Light with the impression Spot One, GLP has done it again 12 months later.
At this year's Worship Facilities Conference & Expo (WFX) in Dallas, Texas, the company achieved similar success — this time for the new impression X4S.This was among a series of New Product Facility Awards, Solomon Awards and New Product Technology Awards presented by WFX.
Alcons Audio: Equipment Premieres at Amsterdam Cinema
With its imposing Art Deco exterior, the Pathé Tuschinski in Amsterdam is The Netherlands' most prestigious cinema. Inside, it has been restored to its original 1920s glory, while at the same time being extended and modernized to satisfy the expectations of 21st century filmgoers. The latest phase has included the installation of a bespoke Alcons Audio system, featuring the unique CRA72cst, and the first installation of the company's new Sentinel 4-channel digital amplified loudspeaker controllers.
For more information visit: www.digitalcinemaready.info, www.dcinex.com and www.tuschinski.nl.
Chauvet: Equip New Church, Win Award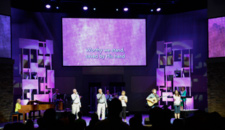 The brand new facility for First Christian Church in Elizabethtown, Kentucky came with a great selection of LED luminaires consisting of about 50 Chauvet Professional fixtures, used as house lights. JCA Media of Cecilia, Kentucky, specified and installed the gear.
Eighteen COLORado 2 Zoom Tour fixtures serve as backlights while eight COLORado Zoom WW Tour luminaires light the pastor in warm white while he preaches from the front platform. Used for their punchy beam, eight Q-Spot 460-LED moving yokes are hung on pipe truss above the central projection screen.

Chauvet Professional also received the Best LED Fixture Award from WFX in Dallas, Texas for its Ovation E-190WW.