Conference & Stage Expo
Salt Lake City in 2016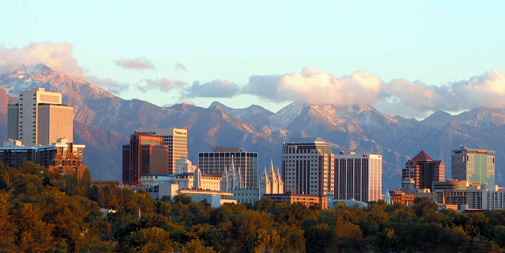 A new city and new opportunities will open for participants when USITT's Annual Conference & Stage Expo visits Salt Lake City, Utah in March 2016.
Board members were enthusiastic about taking USITT's largest event to the city which boasts world class ballet, opera, theatre, and symphonic performances in both formal and informal spaces.
Conference dates are set for March 16 to 19, with the Hilton Salt Lake City Center as the headquarters hotel for the event. Other hotels, such as the nearby Marriot Salt Lake City Downtown, are already on board with reasonably-priced accommodations. Both hotels are either connected or within easy walking distance to the Calvin L. Rampton Salt Palace Convention Center, known informally as the Salt Palace, which will be the focus of Conference events and the location of Stage Expo.
Visit Salt Lake is already enthusiastic to host the Institute in 2016 and is including the event in its marketing efforts.
One great advantage to Salt Lake is the great transportation available to the city known as the crossroads of the west. The airport is only 10 minutes from downtown and is served by Delta, United, American, Frontier, Jet Blue, SkyWest, Southwest, USAirways, and Alaska Airlines. Amtrak provides train service and a plethora of buses and transport companies give the city a multitude of options, including a public transportation system which connects downtown hotels with ski areas.
March temperatures average 53 degrees during the day in the valley, even while great skiing is available on nearby mountains, creating a delightful contrast for visitors.
The 2015 Annual Conference & Stage Expo will be a return visit to Cincinnati, Ohio and the Duke Energy Convention Center. For those planning ahead, dates for the 2015 event are March 18 to 21.