News From
Around the Institute
Register by December 12 to Save $
Conference planners are busy making sure USITT's 2014 Annual Conference & Stage Expo has more to enjoy and more learning and networking opportunities than ever before.  All that is going on to make a trip to Fort Worth, Texas from March 26 to 29 a great investment and, there is a great way to save money at the same time.  The VERY EARLY registration deadline is Thursday, December 12.  Monica Merritt, Director of Member Services, says there has been a very positive response to improvements in both the registration process and mobile apps so check them out today.
Williamson Wins Award
Kim Williamson, known professionally as Kimb, has received the Arizona Theatre Awards of Excellence --Outstanding Set Design Award for the 2012-2013 season.
The awards, presented on September 16 for last season, are also known as the "Zoni Awards" and are given annually to professional/non-profit theatre. This award is specific to a play rather than a musical and was for The Fox on the Fairway produced by Actors Theatre.
On a humorous note, Kim was the "Susan Lucci" of local design talent having been nominated 11 times before winning!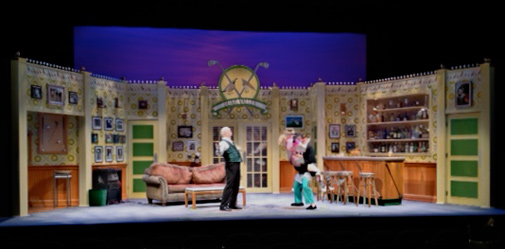 Bill Gallinghouse Forms New Company
Bill Gallinghouse, formerly with ETC, has formed a new consulting company providing strategic sales, marketing, and business development services to entertainment lighting and rigging companies. Specification Sales & Service will assist small- and mid-sized companies interested in developing new products and services for the entertainment market.
For additional information, contact him at 201- 529-2423 or e-mail bgalling@spexserv.com.