News & Notices
Hefter to Receive Lifetime Membership Award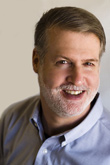 Mitch Hefter has worked in entertainment and architectural lighting control for over three decades since he got his first job after college in 1981.
That same year, he joined USITT and has spent much of his time since working on committees to devise standards for theatrical lighting control – including changes to the National Electrical Code and the development of DMX512, the internationally recognized standard for digital lighting control communication. He has been a leader not only within USITT, but also in other technical theatre organizations.
USITT is adding to Mr. Hefter's impressive list of awards in 2014 by presenting him with its Honorary Lifetime Membership Award, a special recognition for individuals with a significant number of years of "continuous and extraordinary service to the Institute."
"Mitch has made significant contributions to USITT and the entertainment industry through his dedication and vision," wrote USITT Fellow Carl Lefko, who nominated Mr. Hefter for the award. "I know of no one who deserves the USITT Lifetime Membership Award more."
Mr. Hefter, a senior applications engineer at Philips Lighting Controls, will receive the award at the Fort Worth 2014 Annual Conference & Stage Expo in March.
A Chicago-area native, his interest in technical theatre began in junior high. While pursuing an engineering degree at Harvey Mudd College in California, he decided to combine his interests and minored in technical theatre. A year later, he joined Strand (now Philips Strand Lighting) and a then-new USITT committee chaired by lighting colleague Steve Terry, now vice president of research and development at ETC.
"Steve had put together USITT's National Electrical Code Committee to work on revisions to the electrical code, to bring it up to date with new technology and practices," Mr. Hefter said. "I joined partly as a learning experience for me and partly because some clauses in the existing code concerned me. They didn't reflect what we were doing in the industry, and in some cases, they would prevent using new and better technology."
One example involved the cable used to feed portable dimmer racks. Back then, the code forced anyone running a large amount of power to use multi-conductor cable "so big and heavy that you would need a separate truck just for the cable," Mr. Hefter recalled.
The committee was lobbying for allowing specific single-conductor cables when the 1984 Olympics in Los Angeles "accelerated our work," he said. The burdensome cable requirement prevented power to some Olympic venue support buildings. "The city and county made exceptions to allow the Olympics to go on, and helped us with our proposal," Mr. Hefter said.
The 116-year-old National Electrical Code (nfpa.org/70) is revised every three years; in 1981 the new USITT committee submitted 12 proposed revisions. By the next round in 1984, with Mr. Hefter as chair, and experience gained from the work done three years earlier, they submitted 50. Continuing to seek ways to make the code safer and more practical has occupied Mr. Hefter for decades. In 1985, he became USITT's Engineering Commissioner, a role that led to the development of the gold standard: USITT DMX512.
The need for what became DMX 512 arose as digital technology rapidly advanced with no universal standard for communication between the myriad of dimmers and consoles on the market. "If a console broke during a road show, you couldn't use one from a different manufacturer because they didn't speak the same language," Mr. Hefter said.
In 1986, the Engineering Commission published a solution: USITT DMX 512 offered a standard that allowed one master controller with 512 channels to link -- via a USITT DMX Digital MultipleX signal -- a chain of other devices, eventually including not just dimmers but many other devices.
"DMX ended up giving people the tools they needed to advance technology further and ended up being more significant than we expected in driving the industry," Mr. Hefter said. After a few revisions, (the last couple through the PLASA Technical Standards Program) in 2004 it became an American National Standards Institute (ANSI) standard -- USITT DMX512-A, providing formal international recognition.
Mr. Hefter served three terms as Engineering Commissioner and is now Co-Commissioner. He helped launch the ESTA (now PLASA) Technical Standards Program, and was involved in developing the Entertainment Technician Certification Program, which is becoming an industry standard for "rigorous assessments for professional technicians."
He has served several terms on USITT's Board, and as an ETCP-certified electrician and recognized trainer, has presented at many Conferences. He was named a Fellow in 2002.
Mr. Hefter said he is extremely grateful to his wife and two sons for supporting his volunteer work over the years. He is the 14th person chosen for USITT's Honorary Lifetime Membership Award since it was first given in 1992.
"I am humbled and extremely appreciative of this unexpected honor," he wrote, "especially to be included in such an august group of other honorary lifetime members who I have had the great privilege of knowing and working with in my years of USITT involvement."