News & Notices
Seek Nominees for Jefferson Mentorship Program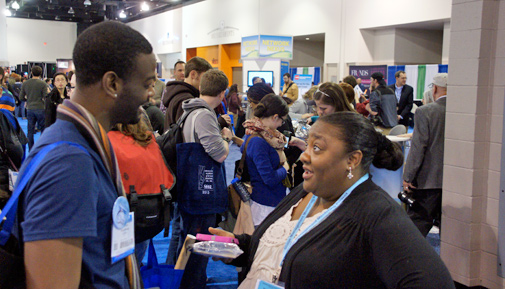 Two African-American students will be chosen to attend the Fort Worth 2014 Conference & Stage Expo as part of a new diversity mentorship program honoring the late Tayneshia Jefferson.
Any USITT member may nominate a deserving African-American student for the Tayneshia Jefferson Mentorship Program by submitting a letter of recommendation to shannan@usitt.org by January 29.  Students do not have to be current members of USITT (an annual student membership will be provided as part of the project).  The students chosen will be provided full conference registration, travel, and housing for the conference, and each will be paired with a mentor who will host them through the conference experience. 
The Tayneshia Jefferson Mentorship Program honors an active member of the Institute and Board Member who died earlier this year.  Spurred by donations made in her memory, the Board of Directors allocated additional funds for the program and agreed to fund the pilot year.
Donations made to the Institute in Ms. Jefferson's name have been directed to the ongoing funding of this project.  The Board also endorsed a Diversity Initiative that will build on and expand the works of current diversity projects: The People of Color Networking Project, Queer Nation, Women's Networking Project, and the Caucus on Human Issues. 
David Stewart, Management's Vice-Commissioner for Programming and the Chair of the People of Color Networking Project, said, "In a profession where we see a good deal of inclusion, production tends to be a rather exclusive club. Minorities in production and in leadership, in particular, are a rarity. USITT has taken up the charge to make a change for the better. Tayneshia would be proud!"
Board Director and former Management Commissioner Carolyn Satter stated, "What a fabulous opportunity has come our way to honor a colleague of ours and devotee to USITT, who was such a beam of caring and inclusion. We now embark on an exciting journey to embrace, absorb, and nurture the young professionals who have chosen design, production, and management as their passion. What a legacy to honor Tayneshia Jefferson."
Plans are underway to expand this mentorship program for the 2015 Annual Conference in Cincinnati, providing opportunities for students who represent all of USITT's diversity efforts.  Donations to this ongoing initiative can be made online by indicating a donation to the New Century Fund either in honor of the Diversity Initiative or in Memory of Tayneshia Jefferson, or calling the USITT Office at 800-938-7488.