News & Notices
Scenic Designer Eugene Lee to Receive Distinguished Achievement Award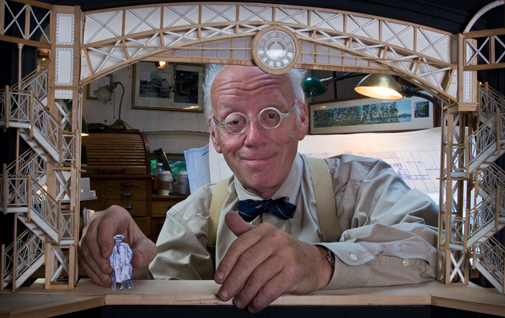 Set design genius Eugene Lee is sure to cause a scene at the Fort Worth 2014 Conference & Stage Expo next March. The three-time Tony Award winner and Saturday Night Live production designer will fly in to receive the USITT Distinguished Achievement Award in Scenic Design for his stellar career on Broadway, TV, and regional theatre.
Mr. Lee won his first Tony for Best Scenic Design of a play for Candide in 1974, the same year he joined the NBC team that launched the live comedy show now known as SNL. He has since won two more Tonys -- for Sweeney Todd in 1979 and Wicked in 2004 -- and many other accolades in his five decades of work.
"Eugene Lee's design work and approach to design are nothing short of inspiring," wrote Michelle Harvey, Vice-Commissioner for Programming on the Scenic Design Commission, who nominated him for the award.
Mr. Lee is known for his seemingly effortless artistry in creating imaginative, intricate versions of the settings described in plays and novels – from the stark, Dickensian scaffolding he assembled from old wood and metal for Sweeney Todd to the 40-foot mechanical dragon clock from Gregory Maguire's Wicked.
He says has enjoyed every minute of a career that began at age 18 in his native Wisconsin. He grew up in Beloit, Wisconsin, and first attended the University of Wisconsin-Madison, 55 miles from home. His first theatre class set him up for life.
"There was really no set design program at the time," he said. "but the university has this famous old theatre, and they took us on a tour. On the stage they had a set for The Bad Seed sitting there. One of the kids in the class said, 'Who does these?' And the guy in charge, this crazy guy, said, 'You want to do the next one?' The kid was like, 'Oh, no.' But I said, 'I'd love to do the next one!' He said, 'You're on.' So I called my father, who was an engineer, and said, 'Would you send me a drafting machine?'"
After a few months learning set design at Wisconsin Union Theatre, he saw a PBS interview about set design at the Carnegie Institute of Technology. "So I got in my VW and drove to Pittsburgh, walked in the door to Carnegie Tech and announced myself." Thanks to drawings he had done in Wisconsin, he was in.
A year later, upset about a problem he can't recall, he set off for the Art Institute of Chicago's Goodman Theatre. Again, his drawings opened doors, and he spent a year there designing operas, he said. A year after that, he heard Yale School of Drama was the place to be, so he went east to New Haven, Connecticut. Meanwhile, a friend, director Andre Gregory, offered him a job at his new theatre in Philadelphia.
"So for a while, I was commuting back and forth from Philadelphia to New Haven," he said. "I didn't mind – working was more fun than school."
He and Mr. Gregory gained fame in the late 1960s, as Mr. Gregory's New York theatre ensemble, The Manhattan Project, created a version of Alice in Wonderland that spent a year on Broadway. Mr. Lee's set has been described as a "room of doors" that loony characters burst through nonstop.
By 1974, when he won the first Tony, the degrees began showing up. The BFA from the Art Institute of Chicago came in the mail one day, he said. Then he gave a talk at CMU –the former Carnegie Tech – that resulted in an offer to send him his BFA for a fee of $36.50. He bit. Then at SNL, he worked with costume designer and Yale Drama MFA Carrie Robbins, who "wrote a letter" that got him a free lunch at Yale and his MFA.
"That's how I got three degrees for three years of work," he laughed.
He said he "accidentally" got into TV with SNL because a young Canadian producer named Lorne Michaels had seen Alice and Candide on Broadway and liked his work. Thirty-nine years later, he still tries never to miss any of the 22 new SNL shows aired each year.
Three Tonys, nine Drama Desk Awards, and an Emmy later, he has a long history not just on Broadway but designing for Trinity Repertory Theatre in his home of Providence, Rhode Island and teaching at Brown University.
He has a busy future. Between now and March, he is designing a new set for Jimmy Fallon's Tonight Show takeover in February; working on the world premiere of a new Athol Fugard play, The Shadow of the Hummingbird, at New Haven's Long Wharf Theatre next spring; and designing for a new musical from Jonathan Lethem's novel Fortress of Solitude co-produced by the Dallas Theatre Center and the Public Theatre in Manhattan. That one is set to open in Dallas March 7. "It will probably be playing there during the Conference," he said.
Oh, and one other big project looms – designing a new set for SNL's 40th anniversary next year. Yes, that does mean the signature Grand Central Station set that established a 10-year record for longest-used SNL set "will need to go."
"It'll be traumatic," he admitted, "because that one is kind of settled in. But it's been around too long, and it's good to shake things up."