News From
Sustaining Members
Bellatex, Inc.: Welcomed as Sustaining Member
We welcome Bellatex, Inc of Jackson, Tennessee as a new Sustaining member of USITT. The company works through a network of local dealers to supply custom stage curtains to venues throughout the United States. Learn more about its services and products at www.bellatex.com
The company will also be exhibiting at Stage Expo 2014
Nemetschek Vectorworks, Inc.: Firm Names Two Regional Managers
Nemetschek Vectorworks, Inc., has expanded into the Chicago and Los Angeles areas by hiring regional account managers Patrick Schmitt in Chicago and David Dengler in Los Angeles.
Prior to joining the Nemetschek Vectorworks team, Mr. Schmitt developed new markets for a start-up company and consulted with engineering, construction, and design/build firms. In addition, he was an IT sales manager and a regional sales manager with Chicago printing companies. He earned a bachelor of science degree in business administration from the University of Nebraska-Lincoln.
Mr. Dengler was a designer with Adler Display and before that an iPhone/iPad application developer and a project designer/manager with several architecture firms in California. He has extensive CAD software experience, including first-hand knowledge of Vectorworks software and its rendering capabilities. He holds a bachelor's degree in architecture from the Southern California Institute of Architecture in Los Angeles.
Nemetschek Vectorworks hosted two Vectorworks Architect 2013 training sessions on June 13 at the MicroTek training facilities in Chicago, Illinois. For questions concerning the Vectorworks Architect 2013 training sessions, e-mail Pschmitt@vectorworks.net or call 888-646-4223. For more information, visit www.vectorworks.net.
GLP-German Light Products: LED Lighting Featured in Rock Show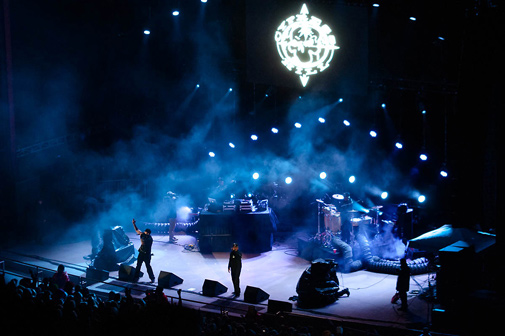 Using 12 of GLP German Light Products's versatile impression X4 LED fixtures, Washington D.C.-based Pulse Lighting recently provided lighting for Slightly Stoopid's special one-off Hot Box show at Red Rocks Park and Amphitheatre in Denver, Colorado. The show, which also featured Cypress Hill, was scheduled for broadcast live on AXS TV the same evening.
Eilon Engineering Systems: Company Displays Load Monitoring System
Eilon Engineering Systems featured its new Ron StageMaster load monitoring system at InfoComm June 8 though 14.
The company's small, four-load-cell system is easily expandable with more load cells, and users can combine their load cells into one system when needed. Additional features include tablet and smart phone compatibility, long battery life, increased transmission range, and a variety of frequencies.
To learn more, visit www.eilon-engineering.com.
L-ACOUSTICS: LDS Conference Center Improves Sound System
Salt Lake City's 21,000-seat LDS Conference Center, the main meeting hall for conferences of the Church of Jesus Christ of Latter-day Saints and summer and Christmas holiday home to the famed Mormon Tabernacle Choir, recently expanded its L-ACOUSTICS sound reinforcement system with the addition of new KARAi, SB18i and KIVA arrays.
Installed by Poll Sound, the new systems--which are primarily used for speech reinforcement and musical augmentation--complement an existing dV-DOSC and dV-SUB music reinforcement system.
For more on L-ACOUSTICS, visit www.l-acoustics.com.
IATSE: New Contract Negotiated
A new, three-year collective bargaining agreement covering below the line technicians and artists who create commercials was recently negotiated by the International Alliance of Theatrical Stage Employees (IATSE) and the Association of Independent Commercial Producers (AICP).
The current contract is set to expire on September 30. The new agreement becomes effective October 1 and runs through September 30, 2016.
Alcons Audio: Announces LR24 Launch Partner Program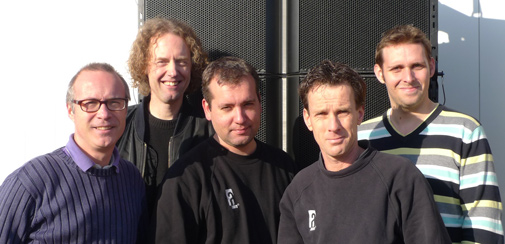 Dutch loudspeaker manufacturer Alcons Audio started its Launch Partner Program for the LR24 pro-ribbon line-array system.
The initial beta phase for the LR24, designed specifically for the concert touring and large-scale installation market and first shown at the Prolight+Sound in 2010, was recently concluded.
The Launch Partner Program enables a select group of users to access this technology at an early stage so their feedback can be part of the product's final development stage.
More information can be found on www.wymiwyg.info or www.alconsaudio.com.
Theatre Projects: Connecticut Office Moves
Theatre Projects' Connecticut office has moved. While the telephone numbers remain the same, as do e-mail addresses, the new mailing and physical address is 47 Water Street, South Norwalk, Connecticut 06854. Colleagues can stop by and visit the new office any time.