News & Notices
Adamson Honors Costume Mentor with New YD&T Award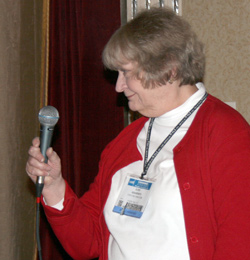 When legendary costumer Barbara Matera died in September 2001, the New York Times obituary called her "an exemplar of her craft" who "took the sketches of designers and breathed life into them."
Judy Adamson, herself an award-winning costumer, worked for Ms. Matera for 15 years before joining the University of North Carolina's Dramatic Arts Department in 1993. After receiving USITT's prized Distinguished Achievement Award in Education last year, Ms. Adamson decided to honor her mentor by recognizing young costumers through a new award. She will fund the Barbara Matera Award for Costume Making, a new USITT Award Young Designers & Technicians in the Performing Arts (YD&T) in costume construction.
"It's time to recognize the individuals who interpret the designer's sketches and help realize their vision," Ms. Adamson said. "There are so many artists who work to bring the designer's sketch to the stage: the shop manager, draper, dressmaker, and milliner, to name only a few."
The costume-making award will be added to USITT's lineup of YD&T Awards, which totaled nine in 2013. YD&T rewards excellence in lighting, sound, scene design and technology, stage management, make-up, and costume design. YD&T winners receive cash prizes, free registration to USITT's Annual Conference & Stage Expo, and an award presentation with industry leaders who sponsor the awards. The Matera award will complement the Zelma H. Weisfeld Costume Design & Technology Award, which annually recognizes a young costume designer.
Barbara Matera was a designer as well, but her great genius was in bringing the most lavish and imaginative designs to even more amazing reality for people like of Desmond Heeley, Tony Walton, Bob Mackie, and her own mentor, Irene Sharaff.
"Armed with bolts of fabric, she would enter her workroom and begin her magic, draping and fitting her clients in a way that accentuated their assets and diminished their flaws," the New York Times wrote in her obit. "Always, her work had something secret and special: beneath a crinoline or a tutu, for instance, she would tuck a tiny silk rosebud."
Born Barbara Gray in Kent, England, in 1929, Ms. Matera began her career in the costume shops of the Adelphi Players, Stratford-on-Avon, and the Old Vic. She moved to the United States in 1962 and founded Barbara Matera Ltd. in New York in 1968. She created costumes for all areas of the entertainment industry: dozens of Broadway shows, including Dream Girls, Beauty and the Beast, A Chorus Line, and La Cage Aux Folles; Hollywood movies, including The Age of Innocence and Sweet Dreams; dance costumes for the New York City Ballet, American Ballet Theatre, Paul Taylor and Eliot Feld; and gowns for opera stars such as Leontyne Price, Marilyn Horne, and Dame Joan Sutherland.
In 1980, she hired Ms. Adamson, who eventually became her assistant and workroom manager, offering her experience and responsibility at one of the best costume houses in New York.
By the time Ms. Adamson moved to academia in 1993, she was draping for such Broadway shows as Crazy for You, The Secret Garden, and Jelly's Last Jam.
"Barbara gave me a chance to grow as a professional," she said. "I learned so much working with her. I can only hope to mentor my students half as well."
Ms. Adamson went on to become costume director and head of the costume production program at UNC, and continues to drape for PlayMakers Repertory Company in Chapel Hill and for the Utah Shakespeare Festival. She and her students have also helped costume the Raleigh-based Carolina Ballet.
She has been an active member of USITT, serving as secretary of the Southeast Regional Section and editing the Survey of Costume Design and Technology Programs, providing information on costume education programs throughout the United States. In 2012 she became the fourth person to receive the USITT Award for Distinguished Achievement in Education.
Ms. Adamson will present the first Barbara Matera Award for Costume Making at USITT's 2014 Annual Conference & Stage Expo in Fort Worth, Texas. She said it's fitting that she's founding an award that will help young costumers launch their careers, as Ms. Matera helped launch hers.
"Barbara didn't set out to create a legacy, but she has touched so many people who are still working on Broadway, regional theatre, or teaching," she said.