News & Notices
Announce 2014 Slate of Officers, Directors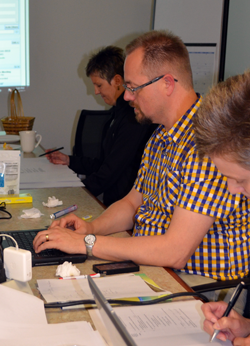 The Nominations Committee presents the following slate for the 2014 election cycle:
Directors listed in alphabetical order (six to be elected): Shan Ayers, Joel Ebarb, M.C. Friedrich, Michael Gros, Carey Hanson, Brent "Mickey" Henry, Rafael Jaen, Shane Kelly, Adam Klein, Karen Maness, Michael McNamara, and Vickie Scott.
The six elected Directors will serve three-year terms beginning July 1, 2014.
Candidates for board officers are (one to be elected):
President-Elect: Kevin Rigdon and Mark Shanda
Secretary: Jimmie Byrd and Tammy Honesty
Vice-President for Conferences: Jack Feivou and Michael Mehler
Vice-President for Commissions: Andi Lyons and Carolyn Satter
Vice-President for International Activities: Marketa Fantova (single nomination)
The President-Elect will serve a one year term in that office and then move automatically into a three year term as President, followed by one year in the office of Immediate Past President.
The work of the 2013 Nominations Committee in recruiting candidates and stewarding applications through the nominations process is greatly appreciated. This is a time-intensive procedure that involves a great deal of thoughtful observation and identification of future leaders of the Institute.
Additional candidates can be added to the ballot by petition signed by 50 USITT members. For Information on the process, e-mail swh@bus.wisc.edu. Deadline for adding names to the ballot is September 1.
Online voting for the 2014 slate of candidates will begin in late October and run through December 6. Watch Sightlines later this summer for information on candidate profiles and position statements.