News From
Contributing Members
Vincent Lighting Systems: Employee Earns Certification, Company Offers New Product Line
Vincent Lighting Systems' Tim Dorman is now an ETCP Certified-Entertainment Electrician, and the company has become an authorized dealer for the ETC Rigging Line.
Tim started with Vincent Lighting in 2007 as field service technician. In addition to spending many hours on the road diagnosing, trouble-shooting, and fixing control and dimming systems for customers, he also does many bench repairs in the Cleveland office, and works with customers in person and on the phone.
Vincent Lighting Systems is now an authorized dealer for ETC's innovative new line of motorized hoist systems, rigging hardware, and controls. The system allows students and tech staff to re-lamp, re-gel, and reposition lighting fixtures safely and quickly, at eye level, with no need for ladders and lifts.
ETC: Eos Titanium Tests Its Mettle on Zorro
Zorro: A New Musical has claimed a lot of firsts for ETC's Eos family of lighting control products. It was the first London West End musical controlled by an Eos desk. It was the first large-scale show in Paris run on an Eos. And now it is the first theatrical production in America to feature ETC's newest lighting control desk, Eos Titanium ("Ti").
The debut of Ti coincided with the preproduction of Zorro at the Alliance Theatre in Atlanta, Georgia. Ti was used to accomplish all programming for the show, running as a client in the theater's in-house Eos system.
For more information about the Eos Ti lighting desk and all of ETC's award-winning products, visit www.etcconnect.com.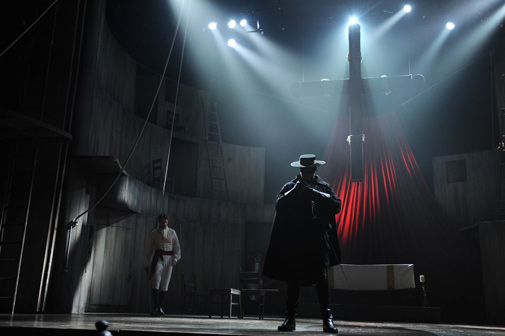 Meyer Sound: Sound System Helps Center Vary Performance Spaces
When planning its new performing arts center, the Mansfield, Texas Independent school district faced a dilemma. Though it was determined that both a large auditorium and a smaller performance hall would be ideal for its range of events, the budget could not justify building and maintaining multiple spaces. A solution was soon found in the multi-use Cunningham Performance Hall of the Mansfield ISD Center for the Performing Arts, which uses a Meyer Sound Constellation acoustic system to provide the ideal acoustics for its varying room configurations and programs.
More information about Meyer Sound and its products is available at (510) 486-1166; Fax (510) 486-8356; email: winnie@meyersound.com or by visiting www.meyersound.com.