Conference & Stage Expo
A Brief History Of "Cowtown"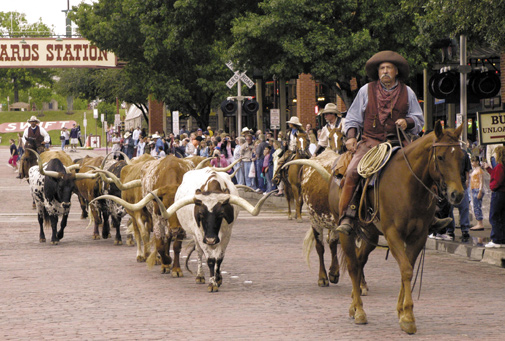 The saloon doors open and a dusty cowboy sidles up to the bar asking for a well-deserved drink. The barkeep obliges the cowboy's demand by handing him a drink and asks the spur wearing man his whereabouts. The man replies with his adventures on his cattle drive from South Texas to the nearby stockyard. This kind of image usually comes into people's minds when thinking of Fort Worth, Texas. Some of the city's colorful past will be incorporated into the 2014 USITT Annual Conference & Stage Expo next March.
Established in 1849 and named to honor General William Jenkins Worth, Camp Worth began as an Army outpost on the north-facing bluff overlooking the Clear Fork of the Trinity River. It was one of eight forts built and assigned to protect Texas settlers from Native American attacks along Texas's western frontier.
From the 1860's into the late 1870's, Fort Worth was the king of the cattle industry and earned its nickname -- Cowtown. Hell's Half Acre, located where downtown Fort Worth is today, became the place to be for cowboys looking for entertainment. A cowboy could hang his hat, take off his boots, and settle in for a night of gambling, partying, and trouble in civilization's last stop on the Chisholm Trail before the long cattle drive north to Kansas City. Now it is the scene of vibrant restaurants, live music, and less bawdy entertainments.
The Texas and Pacific Railway arrived in Fort Worth in 1876 and several other railroad companies arrived soon after. Railroads were the catalyst for further cattle industry growth and the building of stockyards. From Fort Worth, cattle could be shipped to market by rail, virtually ending the cattle drives northward to Kansas City. People arrived in droves via the transportation of the times – by horse or by rail. By 1878, Fort Worth had its first grain elevator. Flour mills followed and Fort Worth also became known as a grain center. The small town of Fort Worth quickly grew from about 300 people to over 3,000 residents.
While dancehall shows were operating in Hell's Half Acre, (which had actually grown to about two acres in size) the longest running "show" in Fort Worth found its beginning as the Southwestern Exposition and Fat Stock Show. The event began as a livestock show in 1896 in a field along Marine Creek. It was moved indoors in 1908 to the newly built Northside Coliseum. The arena, now called Cowtown Coliseum, is still operating in the Stockyards area. A competition of cowboy and cowgirl events was added to the exposition in 1918 and marketed using the Spanish word "rodeo." The show, the world's first indoor rodeo, served as a model to other rodeos and still does today. In 1944, the rodeo and stock show moved to Will Rogers Memorial Center. Gene Autry performed at the rodeo that year, becoming the first popular entertainer to appear at a rodeo event, and setting a new trend in Western entertainment.
With industries of cattle and grain booming, banks, restaurants, more entertainment, and modern progress followed. By the end of the 19th Century, Fort Worth was a well-oiled working machine. Population was on the rise and Fort Worth grew yet another industry: meat packing. Fort Worth became home to one of largest meat packing operations in the West, processing everything from hogs to cattle. More stockyards were built and more supporting business came with them. At the same time came what people outside of Texas know Fort Worth for: OIL! Streets changed from dust trails to beautiful concrete paths to make way for the booming city. In 1920, Fort Worth had eight operating refineries with four more being built for the nearby East Texas oil boom.
While business grew, so did architecture and culture. Dallas had been chosen as the official site for the 1936 Texas Centennial Celebration. Not to be outdone, Fort Worth leaders began making plans for their own celebration to be held in a cow pasture west of downtown; and so was the birth of Will Rogers Memorial Center located in what is now Fort Worth's beautiful Cultural District. Included as one of the new facilities for the celebration was a new amphitheater called Casa Mañana, meaning "House of Tomorrow." The 4,000-seat outdoor venue included a restaurant and the world's largest rotating stage. It was surrounded by a moat with projecting fountains circling the stage to create the stage curtain.
The theatre produced Broadway plays, western shows, and musicals until budgets were cut and the building was later dismantled. In 1958, Casa Mañana was rebuilt; this time as an indoor, air conditioned theatre-in-the-round. The interior was renovated to a proscenium stage configuration in 2003. Today, the theatre continues to produce everything from Broadway shows to children's theatre and even the occasional Western show, just as it did when it first opened.
Currently, Fort Worth Texas, is the 16th most populous city in the United States and the fifth largest city in Texas. Take a walk down one of "Cowtown's" streets; you might be taken back in time and hear the swinging of saloon doors. Just like the first cowboys coming to town, don't forget to buy your new hat and boots in Fort Worth so you will be set for your trail ride home.