Commissions
Poster Session 'Lives' in Cyberspace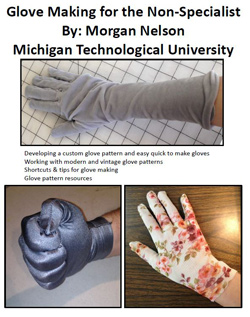 The 24 presenters at this year's Costume Design & Technology Poster Session delighted and inspired nearly 300 participants. Presenters were industry professionals, faculty, and students – all with exciting ideas and clever solutions. The posters are now available online.
To access all the information shared in the Poster Session and the other Costume Design & Technology Commission sessions presented in Milwaukee:
Go to the USITT website
Log on
Go to the Library
Go to the Costume Commission Archive
Peruse the files of interest. (Remember to not only scroll up and down but side to side to see all the files available.)
Some posters addressed uses for current tools such as CNC routers, Cameo cutting machines, and iPads. There were posters on techniques in needle tatting, blackwork, glove making, and faux embroidery. Underthings were addressed in posters on corsets, skirt supports, and lights in costumes. Others dealt with head issues: 1940s hair, pantyhose wigs, and helmets. Participants could find information on fabric storage, historic color, half-scale design, magnetic patterning, and dressing sheets. Finally, design solutions were shared for creating Puck, a reptile man, and super flat costume details.
There is still information to be added and search functions to be refined. Questions or suggestions about this archive can be directed to M.C. Friedrich at mcfriedr@mtu.edu.