News & Notices
North Dakota Students Win Ideal Theatre Contest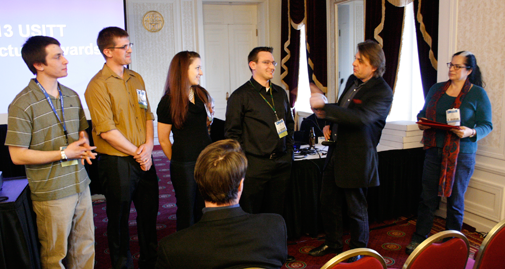 What started as an architecture class project – to design a theatre for their campus – ended with five students from North Dakota State University winning USITT's 2013 Ideal Theatre Student Design Competition.
The Architechnitions – third-year NDSU architecture students Ryan Linne, Mshail Ahmed, Britten Churchill, and Dennis Bukowski, and theatre student Ben Wetzel – won the Commissioner's Award at the 2013 USITT Annual Conference & Stage Expo in Milwaukee, Wisconsin, for their redesign of NDSU's Askanase Hall into the Askanase Theatre.
"No longer will Askanase be referred to as 'the building across from Jimmy Johns (restaurant),'" they wrote in their design booklet. "Instead, Askanase will be a beacon on campus."
The four aspiring architects on the team were members of a fall 2012 studio class jointly led by Associate Professor of Architecture Mike Christenson and Assistant Professor of Architecture David Crutchfield, and assigned to design a theatre. Ben Wetzel was in NDSU Theatre Technical Director Mark Engler's design studio.
When Mr. Christenson asked Mr. Engler for input last summer, he suggested a design renovation to Askanase Hall, home of the theatre school and two stages: an auditorium and a black box theatre. He also suggested they enter their designs in USITT's Ideal Theatre competition.
The annual competition asks architecture students to collaborate with theatre students to design their ideal theatre, and submit a poster and design brief to USITT's Architecture Commission.
Mr. Christenson had four teams of students, each joined by four of Mr. Engler's theatre students as "the client." The architecture students each drafted a design then swapped with another student. They worked on that design for three weeks, then swapped again with two other students resulting in a project with four authors, Mr. Christenson explained.
"This model leads to a real sense of cooperation and shared ownership and responsibility," he said. 
The teams explored campus facilities and toured local theatres. They found that Askanase lacks storage space, so the make-up room, backstage area, and wings are crammed with equipment, stock scenery, and costume cabinets. The box office is hard to find. There's no paint shop. Furniture is stored "in a loft above stage right and requires a rope and pulley to lower to the stage floor 20 feet below," Team Architechnition wrote. "Our dressing room situation ... leaves both sexes getting ready for a show in the same room." Plus, the building is not handicapped accessible.
The client wish list included a larger proscenium stage with flyspace and catwalk, bigger scene and costume shops, storage rooms, larger classrooms, and a new design studio.
Team Architechnition's design substantially renovated the 1960s brick building and included an addition and a new façade with a three-story glass atrium over an expansive lobby. They learned in January that their project was one of two chosen for an Honor Award. They and a team from Poland presented their designs for final judging in March.
USITT gave them free registration, and NDSU provided train fare and hotel costs, Mr. Linne said.
"The USITT Conference was a great experience," he said. "We were able to meet a lot of architects that design mainly theatres ... Also, the Stage Expo was a great way to learn about the products that go into a theatre."
He said the competition was good practice for presenting a design. "The award also looks great on a resume," he added.
Mr. Linne said the project sparked his interest in designing theatres – and he hopes it will spotlight the need for a more "ideal" theatre at NDSU.
"The college of theatre and design is very cramped in the current building," he said. "Part of the idea of this project was to create some interest in the notion of getting a new building at some point in the future."
For more information on the Architecture Awards, click here.