Conference & Stage Expo
Water Shapes Milwaukee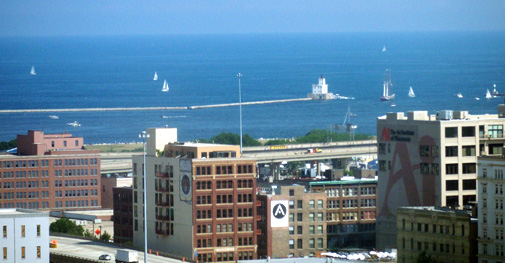 In Milwaukee, there is always water. You can find a lake, a river or three, perhaps even a canal.
Standing at the door of the Frontier Airlines Center, a native will tell you to go "over the bridge" to the Harley Davidson museum. Another will say to go "over the river" to a recommended restaurant. After a day or two, you'll figure out that there are actually two rivers, the Milwaukee and the Menomonee. The city even has an urban water trail. Don't forget the Kinnickinnic, either.
When the USITT Annual Conference & Stage Expo is in town March 20 to 23, it may be a little cold for kayaking, but the rivers shaped the town and city. Outdoor dining might not be appropriate, but the restaurants that line the rivers are vibrant and varied.
The Milwaukee and Menomonee rivers join not far from the convention center, which will be the heart of USITT activities. Use them as an excuse for an easy walk down to Lake Michigan and a visit to Discovery World. Or visit the Milwaukee Art Museum with three buildings. The work of three iconic architects -- Eero Saarinen, David Kahler, and Santiago Calatrava — are a visual feast for visitors.
The museum is connected to the city by a suspension bridge and features the Burke Brise Soleil, a moveable sunscreen with a 200-plus foot wingspan that folds and unfolds twice a day. (Watch for more information about the museum and its current exhibits closer to March.)
Not only rivers, but commerce seems to be flowing into the city. USITT visitors to Milwaukee will find the center city area is extremely friendly to foot traffic. Everything from an office supply store to a department store to convenience stores are easy to find. Having them so near at hand is extremely helpful to out-of-towners.
Just because there is water in the river, Milwaukee wants to keep its visitors dry. Many trails and pedestrian bridges connect buildings, including connectors between both the Hyatt and the Hilton to the Convention Center. A person can even reach the nearby multi-story food court without going outside.
Planners are already putting together an exciting lineup of sessions and seminars for USITT's visit to Wisconsin, so start thinking now about being part of the 2013 adventure.