The Last Word:
Under the Rainbow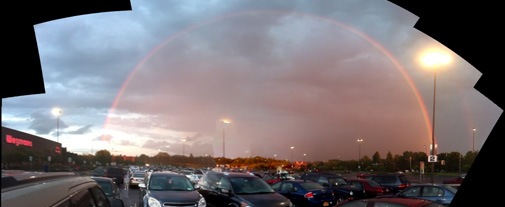 "Never take anything for granted" - advice from my 87 year-old father that has stuck with me throughout my adult life.
This is advice that has helped me throughout my career and especially through the last two years as President of USITT.
This is advice that I offer to anyone who will listen.
As a young man embarking upon my career in theatre, I had to scrape for opportunities and am grateful for those that I received from mentors and friends who had already been down the path that I had chosen to follow. My education wasn't enough to open the doors that I needed opened so that I could some day become successful. Hard work and perseverance (and a bit of luck) paid off!
I found something that I enjoyed and was good at and stuck with it, all the while never taking anything for granted.
I am appreciative of the opportunities that have come my way and hope that I have expressed that appreciation to those who were instrumental in making those opportunities available. This holds especially true for all of the volunteers and members of USITT that made the past two years as enjoyable and productive as they were for me.
On my last trip to Syracuse for the June Board meeting, I had occasion to visit a local supermarket that holds a fascination for me. Not that I needed anything, I just thought that I would kill some time by browsing the aisles of Wegmans.
It had been raining and when I arrived, the rain subsided and I looked up to discover a beautiful, full rainbow in view.
Ironic that I had always had the illusion of riding off into the sunset and all of that changed when I saw the rainbow!
I realized that it was symbolic of the pot of gold that I found through volunteering with USITT! So, I am over riding off into the sunset because I truly found my pot of gold!