Conference & Stage Expo
Seeing Visions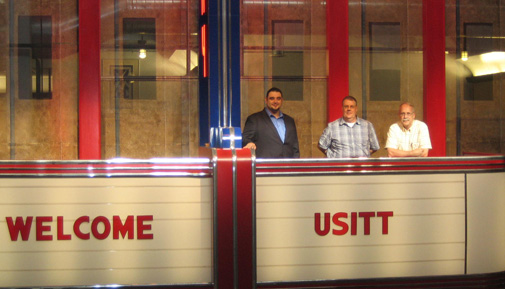 Beginning soon after the conclusion of the USITT Conference & Stage Expo, a new event begins to take shape. An integral part of this process is the meeting of the members of the Conference Committee with the Commissioners Steering Committee. A group of more than 20 devoted members convenes to chip away at the stone and reveal what will become the next event.
This year's meeting took place in Milwaukee, Wisconsin between Friday, May 18 and Saturday, May 19. Milwaukee's Frontier Airlines Center will be the host venue for USITT Conference & Stage Expo 2013. As a precursor to the meeting, a few were able to drive to Madison and tour the ETC's facilities. This impressive facility covers an expanse as large as the demand for their fixtures. Ellen White, Marketing Manager of ETC, guided the tour and gave an in depth view into the product cycle, the amazing culture of ETC and one of the most impressive corporate headquarter lobbies in the world.
The following day, the committee turned its full attention to the more than 200,000 total square feet of space which will be used for the USITT 2013 event. The facility is conveniently located to the host hotels; the Hilton attached by skywalk on one end, and the Hyatt on the opposite side. Inside the facility itself, USITT will be bulging at the seams. Conference sessions will fill the rooms on both the first and second levels, with conference-wide sessions in half the 37,000 square foot ballroom and Light Lab occupying the other.
Capping the facility will be Stage Expo on the third level. An open area for networking will greet the attendees as they step off the escalator. Stage Expo will fill all four of the exhibit halls the Frontier Airlines Center offers. Along with the more than 150 exhibiting companies, the hall will boast special exhibit areas, the always-popular USITT Marketplace and the return of Tech Expo.
Completing the visit to Milwaukee was the convening of the Conference Committee on Saturday, May 19. Throughout the more than 10 hour meeting, every proposed session, workshop, and tour was analyzed and edited to create the best possible experience for the USITT Conference attendee. Painstaking precision was given to create the most focused event yet.
Coming away from Milwaukee, the USITT office and Conference Committee have a complete vision of USITT's Annual Conference & Stage Expo in Milwaukee. It will be the complete event for the entertainment industry concentrating on the needs of the attendees, while in the attractive cultural center of Milwaukee.
For information about exhibiting at Stage Expo 2013, contact ron@usitt.org or 800-938-7488, ext 107.