News From
Sustaining Members
SM-Sim, LLC: Upgrades Membership
SM-Sim, LLC has upgraded its membership to Sustaining. The company is home to the Stage Manager Simulator engine. For more information on the company, visit www.sm-sim.com.
IATSE: Organization Reorganizes, Signs New Contract
The International Alliance of Theatrical Stage Employees (IATSE) has changed its divisional structure to include two new divisions.
The new Division of Education and Training will be headed by former Representative Patricia White. The new Broadcast Division is led by long-time Representative Sandra England.
The Organizing Division will be folded into the current Stagecraft Division with Vice President Daniel E. DiTolla as leader. The main focus of the Organizing Division had been broadcast and stagecraft organizing. Each of the other divisions (Motion Picture and Television Production, Tradeshow, and Canadian Affairs) has its own distinct self-contained organizing function. The new structure gives each Division a well-rounded, coordinated team and reinforces the IA's commitment to organizing.
Last year Local 357 certified the 53 members of the audience development department at the Stratford Shakespeare Festival of Canada who work in the call center and box office. The Local represented these employees in a bargaining session resulting in a two-year contract that was ratified on June 5. The bargaining session helped avoid a strike.
The Festival, which includes four different theatres, opened its 60th season on May 28 despite a looming strike. Local 357 has been representing stagehands, scenic carpenters, drivers, hair stylists, and make-up artists as well as facilities workers at the Festival for decades.
For more information on IATSE, visit www.iatse-intl.org.
Staging Concepts: Announces Newest Product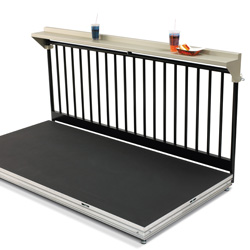 Staging Concepts, the creator of the SC90 platform, recently released its newest product — the VIP Rail Attachment. This product fits on both styles of Staging Concepts' guardrail, the two-line and IBC, and is designed for use as a ledge for concession stand items, workspace, or writing surface.
The VIP Rail Attachment is available in a variety of finishes, including clear anodized, silver powder coat, and black powder coat. It is constructed of 1/8-inch aluminum formed sheet, producing a lightweight, durable product.
For more information, visit Staging Concepts at www.stagingconcepts.com.
TMB: Lighting System Used on Bluegrass Tour
Bluegrass artists Alison Krauss and Union Station prefer intimate settings for their gigs. To help provide this atmosphere in 3,000 to 5,000-seat vintage theatres and music halls, LumenRadio wireless control was chosen to operate the tour's lighting system. TMB is exclusive distributor for LumenRadio in North America and the United Kingdom.
For details about LumenRadio lighting control, visit www.tmb.com/lumenradio. Learn more about other products from TMB at www.tmb.com.
Stagecraft Institute of Las Vegas: Institute in Summer Season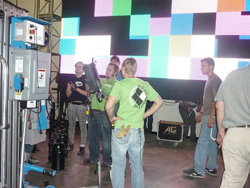 The Stagecraft Institute of Las Vegas (SILV) is in the midst of its summer season offering its students a diverse comprehensive exposure of cutting-edge technology and training from industry leaders in rigging, automation, lighting, audio, and special effects.
This is the sixth consecutive year for the program that offers its students hands-on experience from the premiere industry professionals. SILV has hosted students from 38 states and 20 countries representing every continent except Antarctica.