News & Notices
Pilbrow Keynote Speaker at NATEAC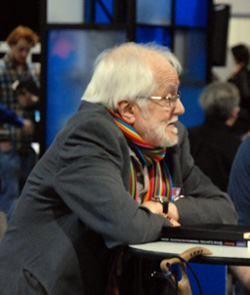 Richard Pilbrow, founder of Theatre Project Consultants (TPC) and one of the world's leading theatre design consultants, will give the keynote address at the North American Theatre Engineering and Architecture Conference (NATEAC) in New York City on July 22.
The conference, scheduled for July 22 and 23, promotes communication between the architects, engineers, consultants, and manufacturers responsible for designing and building new theatres and renovating existing performance facilities in North America.
Mr. Pilbrow will speak at the conference's opening session on Sunday morning at the midtown New York Hilton Hotel. To register for the conference, visit www.nateac.org/register.htm.
Early in his career, Mr. Pilbrow was selected by Laurence Olivier to be the lighting designer and theatre consultant to the National Theatre of Great Britain. He founded Theatre Projects Consultants in 1957, and led the organization to become one of the most respected theatre design consultancies in the world.
More recently, Mr. Pilbrow was honored as Lighting Designer of the Year by Lighting Dimensions magazine in 2005, and he received the Wally Russell Lifetime Achievement Award in 2008. In 2010, he was voted one of the most powerful people in the entertainment technology industry by Live Design magazine, and he received an Honorary Fellowship of the Hong Kong Academy for Performing Arts for his "outstanding achievements and distinguished services to the performing arts."
Mr. Pilbrow's new book, A Theatre Project, tells the story of TPC as a young enterprise, and how the company went on to revolutionize the design of theatres and concert halls in the United States and around the world.
"I applaud NATEAC for the noble effort to bring together people who influence theatre design to share their ideas and insights, and to learn from one another," said Mr. Pilbrow. "It will be exciting to share this unique experience for our industry and to contribute to the process."
Schedule Available Online
Theatre design professionals attending the NATEAC can choose the sessions they will attend, using the session schedule at www.nateac.org/sessions2012.htm. AIA has approved 11 sessions for continuing education credits.
Twenty-four panel sessions are scheduled across the two days of the conference. Sessions eigible for credits are indicated in the schedule with the AIA/CES logo. For more information, visit www.nateac.org.
USITT is a Gold sponsor of NATEAC 2013 and will be hosting a reception for attendees of the Conference.