News From
Contributing Members
ETC: Lighting System Upgrades Gives Portland Theater Massive Energy Savings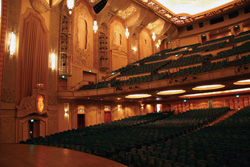 Oregon's Portland Center for the Performing Arts (PCPA) recently upgraded the lighting system in its Arlene Schnitzer Concert Hall with 36 ETC Selador Classic Vivid-R LED luminaires. By installing the fixtures, the venue expanded its color capabilities, reduced its energy usage, and earned cash incentives from Energy Trust of Oregon to put toward buying the fixtures.
One requirement venues must meet to qualify for Energy Trust cash incentives is that a new lighting installation must result in at least a 25 percent energy savings compared to the previous system. The Concert Hall's aging striplight system was demanding an increasingly high level of maintenance. Appropriate light bulbs are no longer being manufactured, and the cost of upkeep kept mounting. The theatre has 288 control channels dedicated to the Selador system. While the Selador luminaires were initially intended to replace only border lights, they have since taken over much more of the lighting work on stage.
More information about Selador LED luminaires and all of ETC's award-winning fixtures is available at www.layersoflight.com and www.etcconnect.com.
J. R. Clancy: Work on Performing Arts Center Nets Award
J. R. Clancy received the 2012 Excellence Award from Live Design magazine for the company's extensive work at the Kauffman Center for the Performing Arts in Kansas City, Missouri.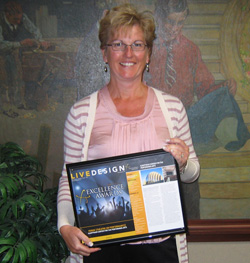 The award was presented in a ceremony in New York City on May 22. Clancy received the award in the Venues (Theatrical or Performance) category. Twelve years of planning and construction led to the opening of the Kauffman Center in September 2011, a spectacular 438,500-square-foot steel, marble, and glass complex designed by renowned architect Moshe Safdie. The center created a permanent home for three major arts organizations: the Kansas City Ballet, the Lyric Opera of Kansas City, and the Kansas City Symphony.
 
"We are always gratified when our work is recognized, but this honor comes from our peers in the theatre technology community — which makes the Excellence Award very significant for us," said Mike Murphy, J. R. Clancy president.
More information on J. R. Clancy is available at www.jrclancy.com or by calling (800) 836-1885.
GAMPRODUCTS: Light Designed to Prevent Bumps in the Dark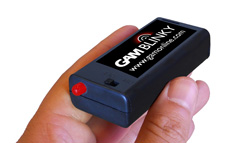 GAMPRODUCTS, Inc. recently announced its new GAM Blinky Stage Guide Light.
Ever whacked your head on a low hanging beam backstage, hit your shins against a protruding platform, or bumped into an unseen obstacle in the dark? Blinky is a self-contained, battery operated LED safety light. Small and weighing less than 1 oz., it is light enough to go anywhere. It is available individually or in an economical package of 10. Don't curse the darkness, switch on a Blinky. For more information, contact: GAMPRODUCTS, INC., 4975 West Pico Blvd., Los Angeles, CA 90019. 323-935-4975 or www.gamonline.com.
PRG & Meyer Sound: Selects Sound System for Dalai Lama's Address, Adds Sound Equipment at Lied Center
On the last day of his April visit to California, His Holiness the 14th Dalai Lama spoke about "Peace of Mind in Troubled Times" to an audience of more than 10,000 at the Long Beach Arena. To maintain precise intelligibility in the challenging arena acoustics, PRG Audio of Sun Valley, Calif. deployed a Meyer Sound system comprised largely of MICA and M2D line array loudspeakers.
Consistent audio quality is the rule at the Lied Center of Kansas, the principal performing arts venue for the University of Kansas in Lawrence. Whether attending a headliner concert in the 2,000-seat theatre, an evening of acoustic folk music in the new pavilion, or an outdoor social event on the adjoining terrace, patrons appreciate the superlative music and voice reproduction provided by Meyer Sound self-powered loudspeakers.
The newest addition of Meyer Sound equipment was installed in the facility's new education pavilion.