The Last Word:
Resolutions
The Board of Directors at its March meeting recognized outstanding service to the Institute. The service of three officers was acknowledged – Vice-President Michael Mehler, Treasurer Travis DeCastro, and President Joe Aldridge – and to members, Tim Kelly and Jean Montgomery. We shared the resolution concerning Ms. Montgomery in the May issue of Sightlines. The others are below.
Michael Mehler

Whereas, Michael Mehler has loyally served the Institute as an advocate for quality conference programming for many years, and
Whereas, his leadership as the Vice-President for Programming has transitioned our program matrix into the 21st Century, and
Whereas, he served faithfully as the President Lefko's personal valet, and
Whereas, his newly discovered expertise in show floor security has anointed him with yet another hat, "Certified Bouncer," and

Whereas, he established and nurtured relationships with ALL USITT constituencies, and
Whereas, Dr. Mehler has emerged as a permanent fixture on the conference committee since its inception for the planning of the 1997 Pittsburgh conference, and
Whereas, he has served many years as the official USITT Liaison to ESTA, and ATHE, and

Whereas, under Dr. Mehler's leadership USITT initiated the first Professional Development Institute for High School Instructors, a joint venture with EDTA, and

Whereas, it is time for him to come out of the closet and proclaim to all his recent ascent to the prestigious rank of Ph.D.

Therefore, be it resolved that the Board of Directors of USITT, acknowledge and commend the breadth of these efforts with many thanks for his selfless leadership, and unwavering dedication to the Institute.
Travis DeCastro

Whereas Travis DeCastro has been the faithful steward of USITT's fiscal well-being, assuming the office of Treasurer in 2007, and
Whereas he has watched carefully over USITT's finances for more than a decade as a member, and then Chair of the USITT Finance Committee, and
Whereas Travis has shared his knowledge of all things Google with anyone who will listen, and
Whereas he has written for Sightlines to help members enjoy his production process, and
Whereas his help has been invaluable in producing Special Events for the Annual Conference, including stints backstage and onstage in the New Products showcase, and
Whereas the sight of him in a dress has caused a generation of young members to pray for darker lighting, and
Whereas he wrote, directed, co-starred, or provided inspiration for the USITT videos famed on YouTube and other social media, and
Whereas the Management Commission benefited greatly from his service as a Vice-Commissioner, and
Whereas his colleagues and friends throughout USITT have enjoyed his wit and his company for many years.

Therefore, be it resolved that the Board of Directors of USITT acknowledge and commend him for his stewardship through his commitment and dedication to fiscal solvency that has seen the Institute safely through world-wide economic turmoil. In honor of his faithful service, let it be known that Travis DeCastro is now, and forever, to be known as the "Krusty Kurmugeon" and be it known that although he bleeds Penn State Blue, it is in the shade of PMS 199.
Joe Aldridge
Whereas his more than 25 years of volunteer duties at USITT Annual Conferences has led him to attend nary a boring session, and
Whereas his experience traveling with and caring for lions, tigers, and panthers prepared him nobly for the herding of cats needed within USITT's leadership, and
Whereas his old-timer's viewpoint at the First Timers Reception has caused many smiles and much information to be transferred, and
Whereas Joe threatens to only give conference sessions one microphone and will refuse to plug it in unless asked for in writing, and
Whereas Joe Aldridge has successfully completed the bouncer certification program and now wears the title of Louisville Conference & Stage Expo Bouncer of the year, and
Whereas iced tea vendors from Toronto to Texas will mourn his passing from office, and
Whereas he has led staff and volunteers into the search for barbecue from white linen restaurants to gas stations AND Whereas his Presidential duties have included eating at Dinosaur Barbecue as frequently as twice a day while visiting Syracuse, and
Whereas his concern for the health, wellbeing, and personal growth of USITT's staff will be long remembered and appreciated, and
Whereas his sense of humor is as dry as the desert environment in which he has chosen to reside and
Whereas his leadership of the Institute as a direct descendant of the Marshall clan, occasionally displayed in full tartan regalia, could earn him the title of The Highlander Extraordinaire, much to the dismay of all the crew at the ZFX booth.

Therefore, be it resolved that Joe Aldridge's concern for and devotion to USITT is foremost in his actions and this presidency will long be remembered as the one that successfully transitioned the organization from old leadership to new leadership.
Tim Kelly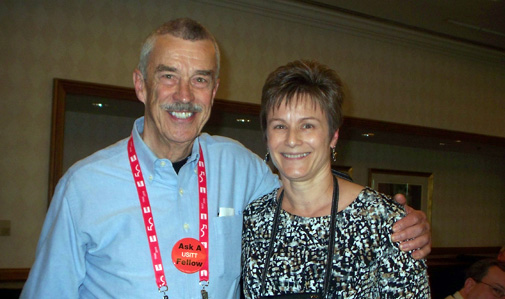 Whereas, Tim Kelly, with the ink almost dried on his USITT membership card, displayed amazing and immediate leadership by becoming a founding member of the Rocky Mountain Regional Section of the Institute, and
Whereas, this ambitious Tim Kelly soon became an eager section officer, a most competent conference co-chair and a persistent director-at-large on the national board, and
Whereas, this highly intrepid Tim Kelly parlayed his membership on the Boards of Directors for the distinguished office of Vice-President for Relations, though many wondered what those relations were, and
Whereas, this down-and-out, money-poor, Tim Kelly became an experienced fundraiser for the Edward Kook Endowment Fund honed early on by hounding members of the Institute for contributions to the Silver Anniversary Club, and then later progressing to a slick, high-brow sale approach vis-a-vis the 8th (can you believe it) Theatre Arts Auction now in progress, and
Whereas, this super-charged, tenacious and unabashed Tim Kelly fiercely determined to increase interaction and dialogue between Fellows of the Institute and students and early career members of the Institute by establishing the Fellows Nexus Program, the Ask-A-Fellow endeavor. and now the Find-A-Fellow contest and,
Whereas, this overwhelming, overindulging, and overachieving Tim Kelly now seeks to leave his chair position of the Grants & Fellowships Committee which seems to represent a mere 24 years of service in the chair position — 15 years on the committee and nine on its predecessor, the Endowment Committee,

Therefore, be it resolved that we highly commend Tim Kelly for his herculean achievements in the Institute. His service as chair of the Grants & Fellowships Committee has been especially noteworthy. No one has been more instrumental in acquiring donations to the Institute and in return providing an unprecedented amount of funding for research grants and fellowships — both among the vital functions of USITT. His many service achievements have been accomplished with a stellar management and leadership style which all members respect.

We encourage other members of USITT to attain the level of dedication and accomplishments achieved by Tim so they may join the Kolossal Kelly Kuality Klub.