Costume Design & Technology Commission
Hands-on Costume Sessions a Big Hit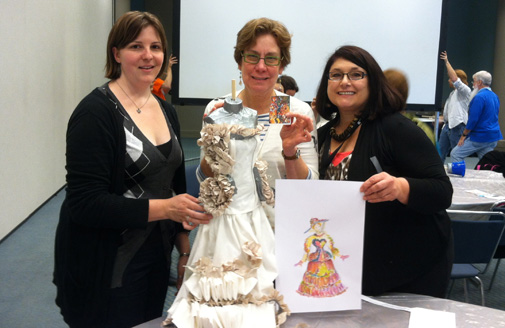 This year Tom Bernard, (Vice-Commissioner for Costume Design) and Regina Truhart (Vice-Commissioner for Costume Technology) teamed up bring the spirit of collaboration to Long Beach. A group of approximately 60 members began the afternoon creating costume sketches from abstract images and short phrases of text.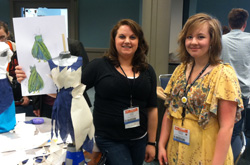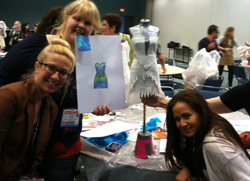 Creativity began to ebb and flow as first-time USITT participants sat side-by-side with a variety of experienced designers sharing in an opportunity to enjoy designing without the usual restrictions of production requirements. Participants were heard making such comments as "I've never done this before...it's fun!" to "It's amazing to see so many people creating something from the same inspiration but it looks amazingly different!"
The spirit of collaboration began with the designers creating sketches and renderings but things really came into full force as participates moved into the second half of the afternoon's activities.
Groups of participants were given a duct tape half-scale dress form, some choices of fabric and paper, and then challenged to team up and sculpt the renderings that had just been created into something 3-D.
For the first few minutes things seemed a little hesitant as one participant observed, "it's like asking us to be on project runway AND a food network cooking challenge all at the same time!" However, it didn't take long to prove once again that costumers can solve problems and be creative even with the most minimal of supplies and limited time.
The photos included with this article are a small sampling of the fantastic display of creativity, collaborative sprit, and talent demonstrated by participants.