News & Notices
Bob Thurston Honored with Special Award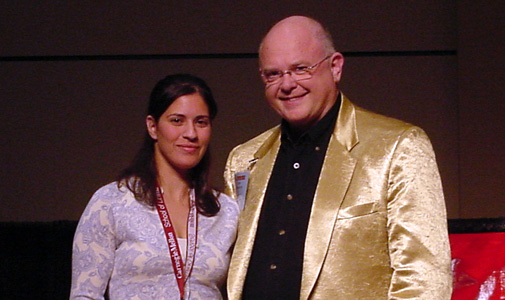 Bob Thurston is well-known throughout USITT for his wit and his loyalty to the organization. His service on both the regional and national level was recognized with a Joel E. Rubin Founders Award at the 2012 Annual Conference & Stage Expo.
Mr. Thurston has spent many years working with and developing the leadership of USITT. Past President Carl Lefko famously recalls that it was Mr. Thurston who first told him he had to become a part of the organization.
As CEO of Stage Decoration & Supply, Inc., Mr. Thurston and his famous gold lamé jacket were highly visible. Although he is no longer CEO, he continues his involvement with USITT and the Southeast Regional Section.
Since the Founders Award is not announced until it is presented, Mr. Thurston was not at Opening Night to physically receive the award. Instead, it was given to his successor at Stage Decorations, Eric Lowell, who was kind enough to deliver and present it.
The plaque reads
United States Institute for Theatre Technology, Inc. presents the Joel E. Rubin Founders Award 2012 to Robert J. Thurston in recognition of your continuous and dedicated service to USITT's National and Southeast Regional Section organizations. Your generous contributions of expertise, time, energy, and treasure through countless years as a volunteer and supporter of young artists are deeply appreciated by your USITT colleagues and friends.
Mr. Thurston sent a note to USITT President Joe Aldridge expressing his thoughts about the award:
Shocked, amazed, what? and grateful were my immediate reactions when Eric Lowell presented the award plaque to me at StageDec after the conference. Please convey to the Board of Directors my deep appreciation for this recognition.

It has been my pleasure and an honor to serve, work, and play with the members of USITT since 1976. I look forward to seeing you and all my other USITT friends in Milwaukee where, by the way, my gold jacket was first inspired. It was made from leftover fabric from the front curtain at the Marcus Center.

I trust all is well with you and your work at school and USITT. We were pleased to work at the new Smith Center in town which is an interesting facility.

Many thanks to you and all at the institute.

Your friend,
Bob Thurston